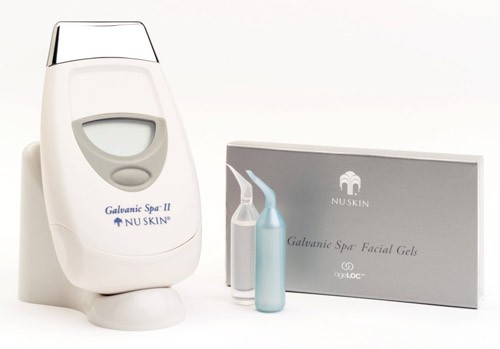 For those that know me well, all know that I'm pretty lazy about getting facials and going to the spa- even the salon. I like to get pampered but most of the time I'm just impatient and restless, when I think about spending a few hours sitting still at one place makes me not want to go. That's why there's home spa kits, I just got this Nu Skin Galvanic Spa System II. This new spa system is said to, "rejuvenate your complexion, revitalize your scalp, and refine your body with professional spa treatments—no appointment necessary." Going to the spa can be time consuming and costly but having this home system I can share it with my mom and treat my girlfriends to a "free spa". My skin definitely needs some rejuvenating since I sleep late almost every night, party all the time and don't really take much care of it. I have yet to try the spa system, but during my break for the holidays I'm definitely going to put it in good use in hopes my skin will look more radiant- especially since I'll be going out a lot.
The Galvanic Spa Instrument features self-adjusting galvanic currents and interchangeable heads- for the face, scalp, and body—works synergistically with specially formulated products to facilitate the transport of key ingredients for optimal performance. Women and aging, we don't like that word…
Launching right now, Nu Skin Enterprises is introducing Galvanic Spa Facial Gels with arNOX-inhibitor technology. In a revolutionary skin care breakthrough, scientists from Nu Skin Enterprises and Purdue University have unlocked the science behind the secret to looking young. A newly identified enzyme, named age-related NOX (arNOX), has been identified as an internal source of aging that has effects on the normal aging process. arNox is present in the skin and begins to increase in activity at around 30-35 years of age, when signs of aging first begin. Studies have revealed varying levels of arNox present in your skin can make women look up to 7 years older (higher arNox levels) or 7 years younger (lower arNox levels) than their actual age.
Treatments with the Galvanic Spa System Instrument lasting five minutes or more can enhance the delivery of key ingredients for up to 24 hours.
I'll report back on my review of the Galvanic Spa System II when I try it, if you've tried it tell us what you think!
Categories: beauty
Tags: