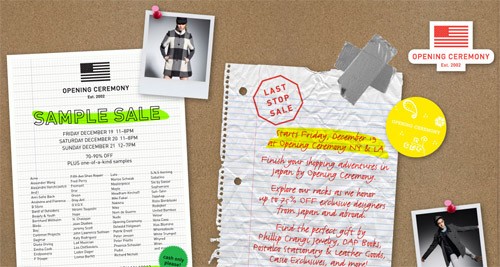 OPENING CEREMONY LAST STOP SALE – Starting Friday, December 19th
Finish your shopping adventures in Japan by Opening Ceremony. Explore the racks with up to 75% off of exclusive designers from Japan and abroad. Find the perfect gift by Phillip Crangi Jewelry, Casio Exclusives, Postalco Stationary and Leather Goods, DAP Books, and more!
New York
35 Howard Street New York, New York 10013 Tel. (212) 219-2688
Store Hours: Monday-Saturday 11-8pm, Sunday 12-7pm
Los Angeles
451 North La Cienega Boulevard Los Angeles, California 90048 Tel. (310) 652-1120
Store Hours: Monday-Saturday 11-7pm, Sunday 12-7pm
NEW YORK SAMPLE SALE – Friday, December 19th to Sunday, December 21st ONLY!!
Dig through archives of American, Swedish, English, German, and Brazilian finds at our annual Sample Sale. Expect old-world prices on timeless pieces. Stumble upon everyone from Alexandre Herchcovitch to Jeremy Scott and everything in between. Arrive early to grab the best, and please bring CASH ONLY.
Sample Sale will be located in the basement of 10 Greene St. (at Canal) next to Acne Studio. Hours: 11-8 on Friday & Saturday, 12-7 on Sunday! Happy shopping!
Categories: shopping
Tags: