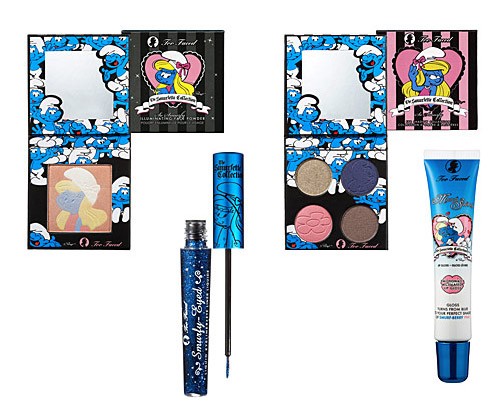 Cartoons seems to be getting a big break in the beauty world, Too Faced Cosmetics is launching released a Smurfette Collection at Sephora the day after Christmas, December 26, 2008 and is available now. The collection consists of five items for the eyes, lips and face, including illuminating face powder ($26); eye shadow in a quad that features blue, pink, taupe and dark lavender hues ($32.50); a jojoba, shea butter and vitamin E–infused lip gloss, $18.50, and liquid eyeliners in blue and white for $17.50 each.
Too Faced co-founder Jerrod Blandino was inspired to create the line after waking up at 2 a.m. wondering, "What the hell happened to Smurfette?" He decided that she was in the hills  around Los Angeles "hiding from paparazzi," he says. "She is the most Too Faced cartoon character ever created," he enthuses. via WWD
Cute stuff, I'll be checking in at Sephora when the collection releases! Do you like?
Edit 12:21pm:
I checked Sephora this morning in the Too Faced category but didn't see the Smurfette Collection but just did a search and it popped up! The collection is now available at Sephora, cop it quick!
Categories: beauty
Tags: