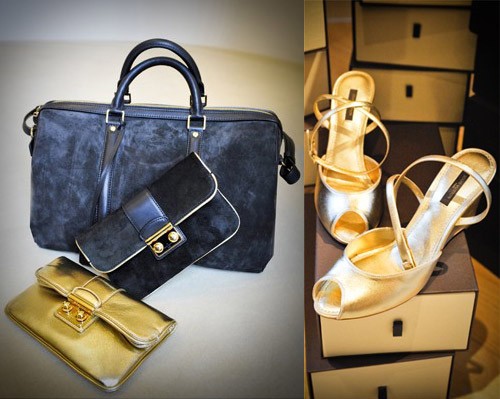 Photograph: Stephane Feugere
Last week you've got a closer look Sofia Coppola's SC Bag that she designed for Louis Vuitton, today WWD has more pictures from the collection which debuted in Tokyo with a party on Friday night at the Château Restaurant Joël Robuchon. The collection consists of slouchy duffle bags, discreet clutches and retro wedge sandals which will hit select Louis Vuitton stores in March 2009.
The SC Bag, comes in four versions: one in dark gray suede, two in navy blue or burgundy calf leather and one in LV's signature monogram canvas. For the evening there are four compact clutches with buckles resembling the locks on Vuitton's classic trunks and peep-toe wedge sandal that channeled the 70s.
Categories: celebrities handbags shoes
Tags: