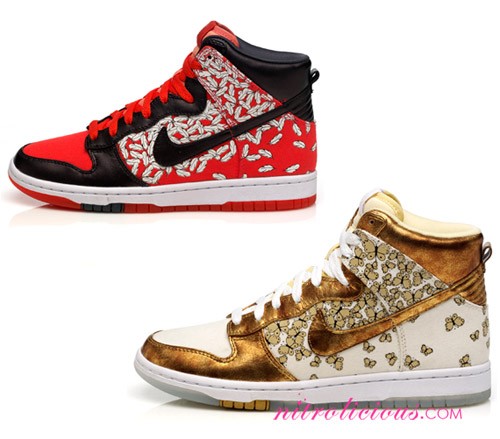 Back in October we were invited to Nike Sportswear to attend the media preview for the men's and women's Spring/Summer '09 collections. At the presentation, the team introduced the Skinny Dunk for women which is a slimmed down version of the men's dunk silhouette made especially for us.
Staying true to the original design ethos of Nike, Nike Sportswear remixed an icon with a distinct focus on innovation. Specially made for the female consumer, the "Skinny" Dunk is Nike Sportswear's offer for the female who loves authenticity that fits with her wardrobe. Keeping the same silhouette of the "real" deal born in 1985 on the basketball court, Nike Design Director Jesse Leyva worked with a strong team of female designers to adjust the fit of the shoe to the female body.  "We don't have to reinvent the wheel", says Leyva. "When you look at the shoe, it's the Dunk, the icon, nothing more nothing less." But when you put it on, you discover the difference.  "It's less bulky, because of the special last we used." Nike design is all about listening to the athlete. In this case we listen to the female athlete who wants to rock the pop culture icon that compliments her foot and form without sacrificing any elements or aesthetic of the original Dunk silhouette. Simply put, the Skinny Dunk is an innovative mix of fit and feel designed specifically for her.
Pushing innovation forward with products such as the skinny dunk is not an one-time investment for Nike. Nike recognizes the status of its icons, for both men and women. Nike's mission is to offer the female consumer the icon remixed and retooled for her form. "An icon is part of pop culture, people vote for the innovation they love."- Richard Clarke. The Nike design mantra of form follows function allowed the Sportswear team to deliver product that respects the iconic piece while fitting it to the female body. In this pursuit Nike Sportswear remains true to the mission set forth by Nike Co-Founder and Oregon Track Coach, Bill Bowerman "To bring inspiration and innovation to every athlete in the world. If you have a body, you are an athlete."
As they introduced the Skinny Dunk, they've rolled out several new designs slated to release next year. These Feathers and Butterflies Skinny Dunks will be a couple of first ones to be released in the new silhouette, perhaps now they'll look better with our skinny jeans and leggings! Stay tuned for official release dates and more styles to come!
Bigger pics after the jump…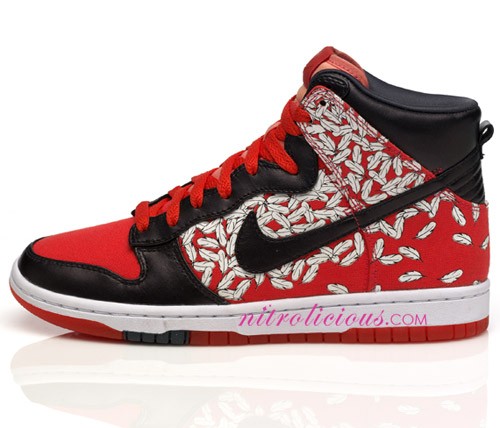 Categories: kicks
Tags: