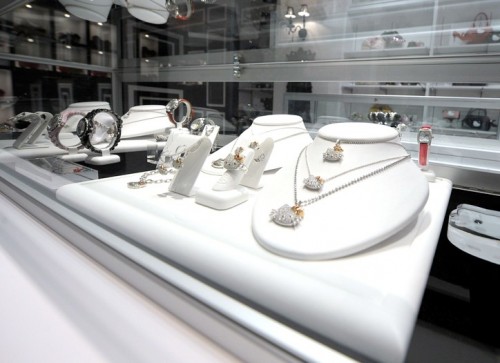 The Sanrio store located in the heart of Time Square at 233 West 42nd Street has been there for quite a long time, selling everything Hello Kitty and Friends to locals and tourists. What I just learned from WWD is that "the 1,200-square-foot space was closed for about four weeks as it was transformed from a typical Hello Kitty store to Sanrio Luxe. Sanrio is opening up its first Sanrio Luxe Concept Shop. The opening is planned for next Tuesday, November 11th. The target are "fashion-forward women in their 20s who grew up with the Hello Kitty brand and the store will sell merchandise ranging from an exclusive pack of pencils for $5 to a diamond-encrusted pendant for $30,000." At the new store, clothing ranging from about $75 for pair of cashmere gloves to $250 for a chunky knit cashmere cardigan to $550 for a leather jacket.
Almost every item is exclusive to the store and designed in a collaboration: handbags and shoes, with Italian design house Camomilla; Colombia-based contemporary apparel from Mabel Palacio; Parisian cashmere women's and children's wear from Victoria Couture, and Kimora Lee Simmons' fine jewelry. Hsu said there will be more collaborations, including limited edition Hello Kitty Fender electric guitars that are to hit the selling floor before the end of the year.
Its actually no surprise, Hello Kitty is huge in Asia and I think it will do really well in the states as well. NYC is open for almost everything, I'll def check it out when it re-opens. What do you think?
edit 12:50pm:
Thanks to reader Jenni for letting me know that the Luxe shop is opened already. Also got an email from Leslie at Racked telling me it has been opened for about two weeks already!! Hmm…the news was just posted on WWD, its all goods! Go check out the shop!
One more pic after the jump…
Categories: shopping toys/design
Tags: