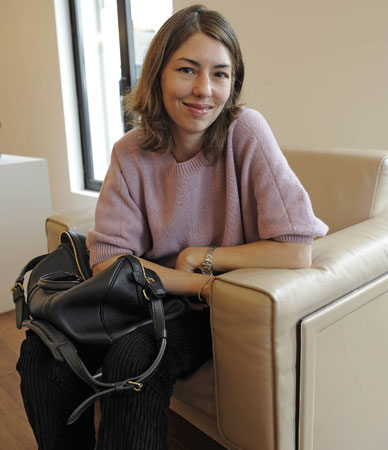 IHT has the first look of the SC bag in calf leather (pictured) Sofia Coppola designed in collaboration with Louis Vuitton. "The bags are grown-up and sophisticated. The shoes are elegant and comfortable. Her design was "inspired by a trip to Louis Vuitton's original home in Asnières, on the outskirts of Paris." She wanted to design "the perfect bag that doesn't exist", a day bag that was "chic, discreet and lightweight and that isn't enormous," adding that "it is hard to find bag without a lot of hardware." The SC Collection will go on sale in Vuitton flagships across the world in March and there will be a launch party to celebrate the collection in Tokyo on December 5th.
She opens the roomy bag (selling in the monogram version at €1,600, or about $2,190), showing how there is an open pocket enabling her to grab her telephone. The evening clutch (€800), with its pochette containing a mirror, is "a thing I wanted for myself." A gilded wedge ankle-strap sandal (€500) was stirred by the memory of her mother's Yves Saint Laurent shoes in the 1970s. ("I loved the 1970s' interpretation of the '30s and '40s," she says.)
Thanks to reader lucy92 for the tip! What's your initial thoughts of the first look?
Categories: celebrities handbags
Tags: