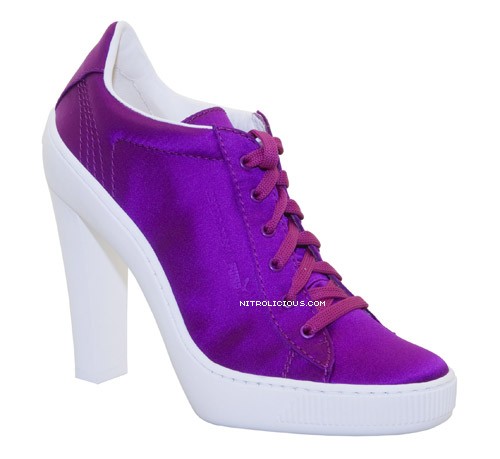 Sergio Rossi for PUMA – Lace Up Bouganville
Yesterday you've seen the first image of the Sergio Rossi for PUMA Mary Jane, this morning we just got the press release with more images and info! This is an exciting and fresh capsule collaboration of two internationally renowned brands that made it their mission to merge Italian luxury and Sport lifestyle together for a very special capsule collection of women's footwear which will debut at Colette in Paris in January 2009.
Having made its debut back in 1973, the iconic "Clyde" sneaker was originally tailor made for all-star basketball legend Walt "Clyde" Frazier, whose apparent technique of "stealing" the ball from his opponents earned him the (Bonnie and) "Clyde" nickname. Over thirty years later, the classic continues its journey into the contemporary world of street wear in a candy-shaded array of satin-coverings as six of the season's hottest colours; "Envy" Green, "Lolita" Pink, "Bullitt" Silver", "Delovely" Lavender, "Fabulous" Bougainvillea and "Speedy" Black.
Now imagine the "Clyde" morphing itself into a more feminine and seductive shoe-sister and the result comes courtesy of "Chic-Sneak", a master crafted high-heeled sneaker which combines the technological design and constructive know-how of PUMA with the all-important sex appeal that is unmistakably Sergio Rossi.
I must get my hands on the Mary Jane and Lace Up Bouganville, super hotness and they look comfy too!
More pics after the jump…

Sergio Rossi for PUMA – Mary Jane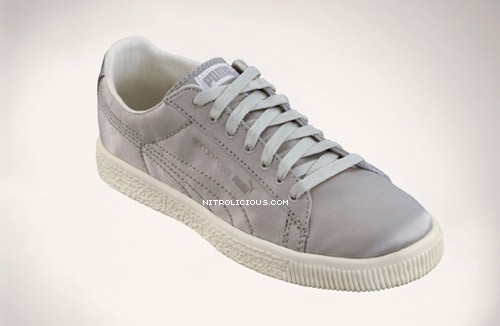 Sergio Rossi for PUMA – Bullit Clyde Sneaker
Tags: