I'm super excited that adidas Originals has signed a multi-season deal with Jeremy Scott to design apparel and footwear for men and women which is scheduled to release on February 1, 2009!! The collection will be first launched in select boutiques and fashion doors and a month later in adidas Originals stores. According to WWD, "The collaboration is part of the Originals by Originals project, which will also include collections by streetwear designers Alyasha Owerka-Moore and Kazuki."
Jeremy Scott says the collection is "bright and shiny and sparkly, but you're really completely at ease"  while Kazuki's collection "features sleek zip-up jackets with waterproof zippers and low-cut basketball sneakers modeled on the classic Adidas silhouette; Owerka-Moore's line is a twist on Americana, mixing heavy cotton with vintage details on the streetwear and creating a riff on an oxford-style sneaker." Expect to see flapper-fringe jackets, sleek cropped bustier, leopard-print hoodie, sequined shorts and loose-fitting sequined track pants in the range. Check out those hot must have high-top kicks (pictured) Jeremy Scott designed with the wings motif, he says "so that they flap around when you walk." I have my eyes on them, must get my hands on them! The collection range from about $45 to $450, while footwear ranges from about $120 to $250.
"I really thought about all the things that my friends would want to wear, and a lot of my friends are pop stars," says Scott. "So I thought, 'What would M.I.A. wear; what would the girls wear?' Giant silver sequined shorts and jacket! It has a very strong look, because it's like a disco mirror ball."
I can't wait, I heart Jeremy Scott and adidas Originals so this is a perfect marriage!!! Your thoughts?
More pics after the jump…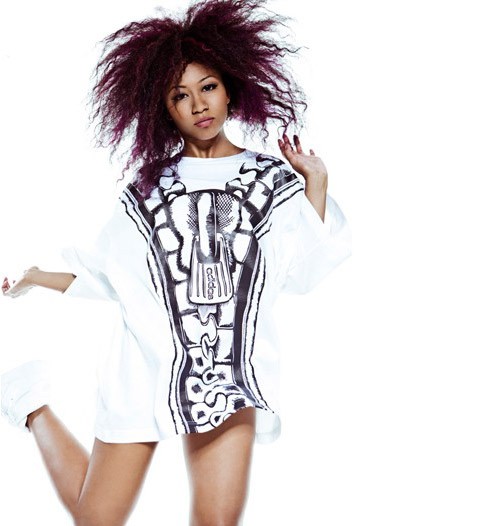 Categories: fashion streetwear
Tags: