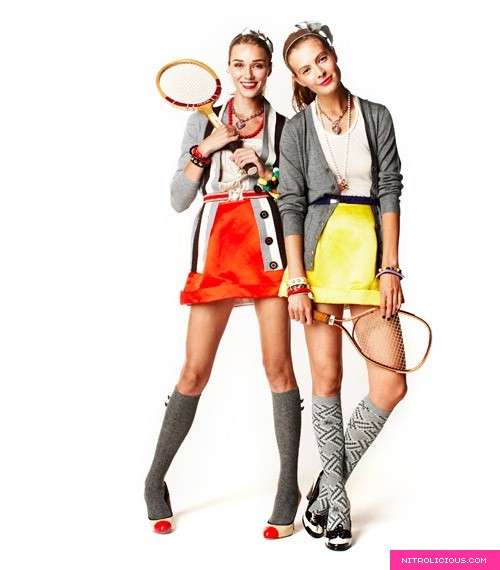 The stylist behind all the fabulous looks of one of my favorite TV shows Gossip Girl, Eric Daman has put together a fall 2008 style guide for RevolveClothing.com. Daman manages a power team of 25 stylists on Gossip Girl bringing us the latest in fashion, we all want to dress like the Gossip Girls- almost everything he puts on the girls becomes a coveted piece. His favorite trend for fall 2008 is "belted boyfriend cardigans and highwaisted pencil skirts. He spills that his favorite Gossip Girl character to dress is Chuck Bass. "It's fun to push men's fashion and let straight guys know that they can dress fashionably, too," says Daman. Who's your favorite?
Are you ready for some schooling from Eric Daman?
Sexy Tennis Doubles (shown)
This is the Hamptons via Great Gatsby with the cardis, knee socks and headbands. I love belted grandpa cardigans – you can give yourself a waist. I love this look!
Left Outfit
Tory Burch Caz Cardigan   $250.00
Mischen Cuffed Mini Skirt   $294.00
Robert Rodriguez Pintuck Camisole   $220.00
Giuseppe Zanotti Pump   $563.00
Hansel From Basel Cable Button Knee Hi with Button   $31.00
Tarina Tarantino Lucite Heart on Chain w/ Toggle   $61.00
Angel Lust Skinny Contoured Blair Headband   $132.00
Right Outfit
Designers Remix Grey Cardigan   $178.00
Mischen Cuffed Mini Skirt   $294.00
Pencey Gauze Tank   $83.00
Biba Fiona Shoe   $450.00
Juicy Couture Plaid Knee High Socks   $24.00
Leyendecker Skinny Belt   $99.00
Vita Gold Hardware Gio   $110.00
Angel Lust Blair Headband   $154.00
More pics after the jump…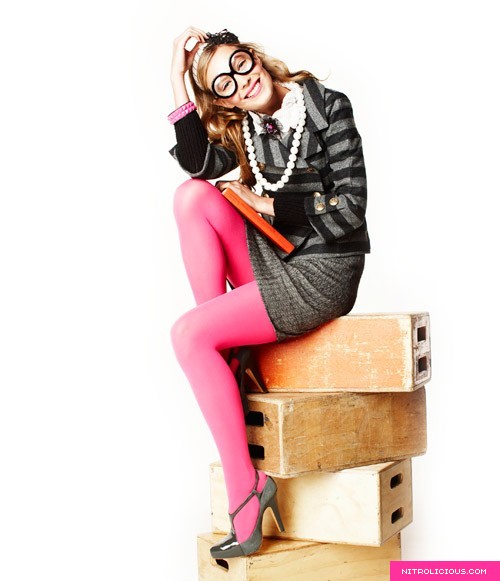 Blair Does Carrie Donovan
This is my sexy secretary editor girl. I love the mix of blacks, greys and brights. The oversized pearls and tweed sparkly headband make it fun. Dressing up is all about fun.
Miss Davenporte Tie Blouse   $330.00
Ella Moss Audrey Herringbone Skirt   $119.00
Smythe Mariner Jacket   $695.00
Report Signature Lombard Pump   $187.00
Tarina Tarantino Linen and Velvet Headband   $143.00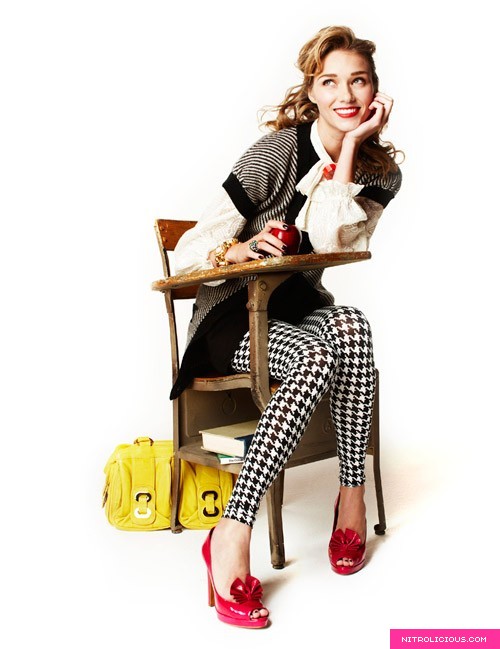 Playing in Mom's Closet
This retro dress is very vintage '60s Sharon Tate. The oversized cardi keeps it young and fresh. I love mixing prints as long as it's tone-on-tone like black-and-white with pops of color in layers or tights.
Alice & Trixie Jacqueline Dress   $325.00
Twelfth Street By Cynthia Vincent Herringbone Vest   $275.00
Costume Dept Leggings   $37.00
Moschino Cheap & Chic Peep Toe Pumps   $501.00
Treesje Deacon Bag   $583.00
Kenneth Jay Lane Cabachons Ring   $77.00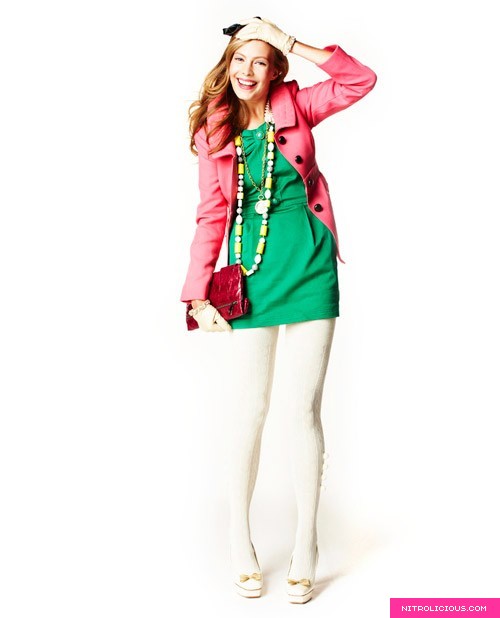 A Teen Vogue Chanel Fantasy
Mix bright colors for fall! This look is lots of fun with color. I love this kelly green dress. It reminds me of old Courreges.
Manoush Coquette Dress   $233.00
Smythe Quilted Mini Coat   $680.00
Hansel From Basel Pom Pom Cable Stocking   $36.00
Carolina Amato Big Jewel Mini Glove   $107.00
Velvet Angels Lady Luck Bow Pump   $250.00
Matt and Nat Sade Buckle Clutch   $150.00
Angel Lust Contoured Blair Headband   $132.00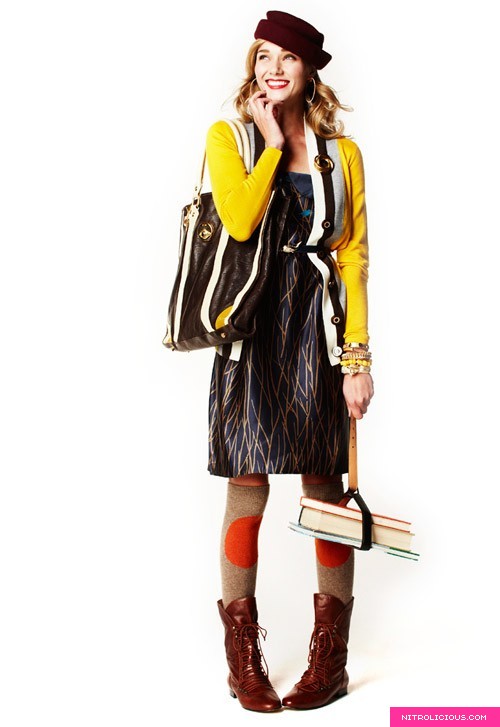 The Perfect Teen Collegiate Girl
She's got on a little 50s-inspired Lorick sheath dress with a Yale-inspired cardigan and nubby knee socks. This is a great mix of dressed up and dressed down.
Lorick Cherwell Dress   $382.00
Tory Burch Caz Cardigan   $250.00
Hansel From Basel Solid Kneepad   $31.00
Devotte Crushed Lace Up Boot   $451.00
Moss Mills 3/4″ Double Buckle Belt   $105.00
Moss Mills Amos the Fox Bracelet   $127.00
Lisa Levine Gypsy Hoops   $341.00
Rebecca Minkoff French Tote   $660.00

Old Hollywood Glamour with Youthful Fun
The neon pop on this dress has a vintage feel while the coat has a minimalist, contemporary feel. I like the oversized houndstooth print. We can't use it on TV because it moves onscreen but it's so fun in real life.
Manoush Jabot Dress   $382.00
Soia & Kyo Nicole Asymmetric Zip Coat   $365.00
Rebecca Taylor Individual Tights   $50.00
Giuseppe Zanotti Zig Zag Peep Toe   $995.00
Just Cavalli Pleated Patent Double Handle Bag   $587.00
Kenneth Jay Lane Gold Geometric Cuff   $176.00
Noir Ring   $88.00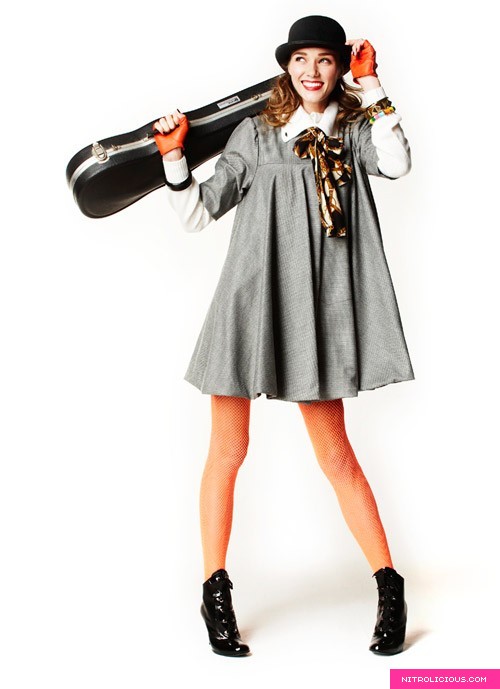 The Vaudeville Schoolgirl
I love hats for fall — cloche hats, oversized newsboys, bowlers. And I love capes. There's an easy drama to them and they are great over a dress. I added a Chanel-inspired bow at the collar and little Victorian vintage-y booties. They're sexy but still cute and kitten-ish.
Miss Davenporte Silk Lined Swing Coat   $561.00
James Perse Cashmere Funnel Cardigan   $575.00
Jill Stuart Jolene Leather   $495.00
Carolina Amato Unlined Leather Snappy Driver   $41.00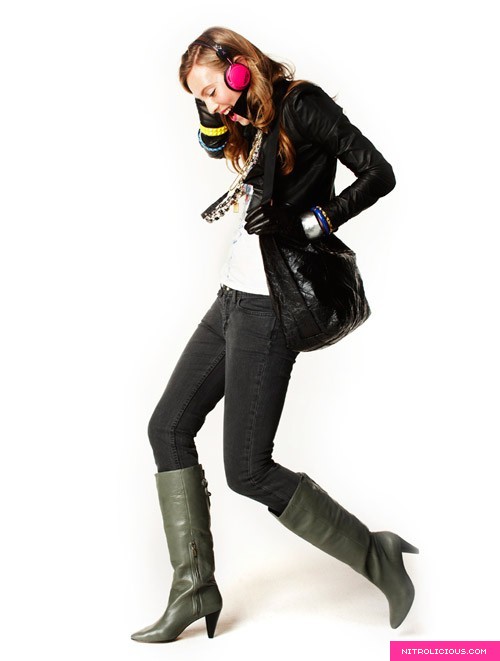 Naughty Schoolgirl Biker Babe
This is a totally different girl. She's rockin' out on her way to school in her little leather motorcycle jacket, skinny jeans and the perfect boot. She's a little mix of Vanessa and Jenny Humphrey from the show.
Barron Duquette Chantal Leather Jacket   $803.00
Degaine Skinny Jean   $176.00
Made U Look Schoolgirl   $39.00
WESC Bongo Headphones   $93.00
Devotte I. Know Boot   $462.00
Hysteric Glamour Studs Necklace   $187.00
Vita Gold Hardware Gio   $110.00
Kimberly Baker Bianca 18″ long   $125.00
Kimberly Baker Carmen 16″   $245.00
Matt and Nat Marias Bag   $260.00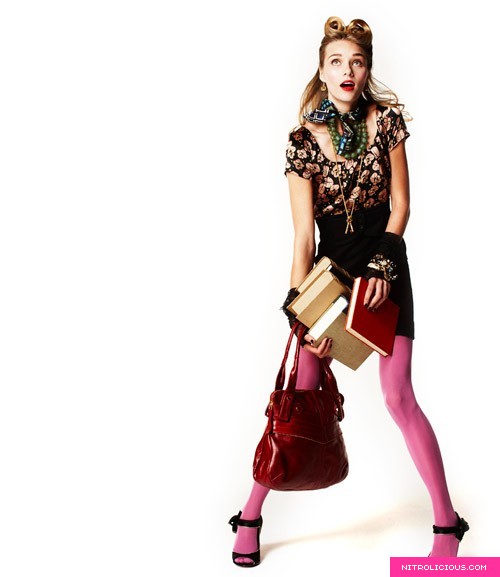 All Grown Up
She just had a lot of fun in her mom's closet and piled on her favorite accessories. I love a high-waisted skirt. It's a great silhouette on almost every body type. The print on this blouse is so soft and feminine with autumnal depth.
Ronson Scoop Neck Fitted Dress   $253.00
Carolina Amato REVOLVE EXCLUSIVE French Lace Nylon Glove   $85.00
Citrine By The Stones 3 Strand Necklace   $253.00
Bing Bang Caged Pearl Earrings   $99.00
Betsey Johnson Rally Bow Sandal   $150.00
Rachel Nasvik Ryan Zipper Satchel   $561.00
More pics on the next page…
Categories: celebrities fashion shopping
Tags: