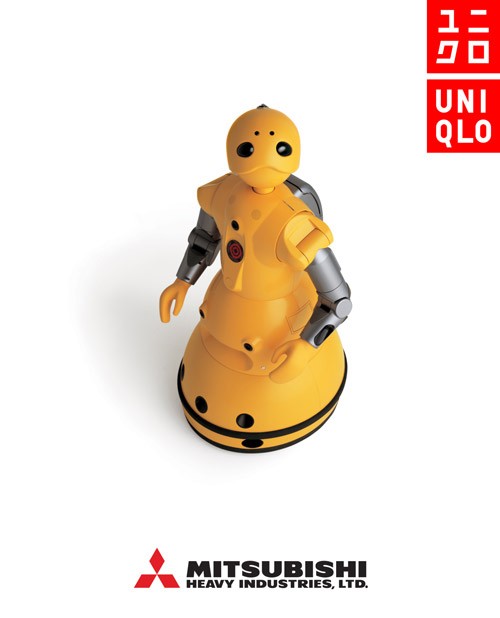 I always say that the Japanese are always so innovative, they always intrigue me. Starting the second week in September, wakamaru, the first robot ever to be featured in a retail store environment, will be joining the UNIQLO team in Soho, New York. Designed by Toshiyuki Kita and developed by Mitsubishi Heavy Industries, Ltd. (MHI), wakamaru is neither human or machine; it is the first creation of its kind. wakamaru's capabilities include eye contact, basic conversation, ability to recognize people and greet them, voice recognition, and basic arm movements. The robot's name is derived from a famous 12th century warrior who demonstrated phenomenal growth and development, the same of which can be expected from wakamaru during its time at UNIQLO and in the future.
wakamaru is not just for looks, it will hold a unique role in the UNIQLO store. It will lead staff in motivational morning exercises, communicate promotions to customers, as well as greet customers upon entrance into the store. Fun! wakamaru's Japanese roots make the UNIQLO store a perfect place to introduce the robot into the American marketplace. The UNIQLO store will also serve as a platform to expose wakamaru to a multitude of nationalities and cultures.
"We are very honored that UNIQLO USA and the people of New York City have welcomed wakamaru " said Ryota Hiura, manager of the wakamaru technical team, "wakamaru, the crown of our efforts and leading technologies, now needs experience in the real world which UNIQLO USA will provide.  We hope that wakamaru will make many new friends during his stay in New York."
I'll be sure to "meet" wakamuru when he arrives at the UNIQLO Soho store- kawaii! Are you looking forward to seeing this robot?
Tags: