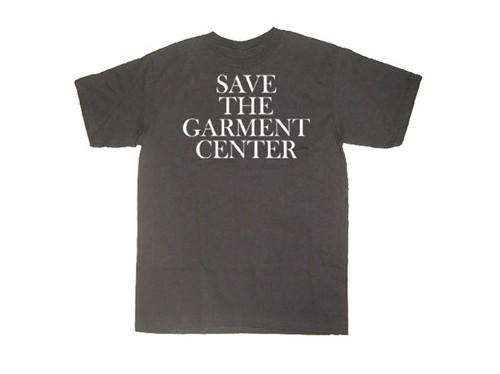 In order to raise awareness to the disappearing Garment Center, Anna Sui teamed up with several designers to create the "Save The Garment Center" T-Shirt to "galvanize members of the Council of Fashion Designers of America to find a way to preserve the Garment Center". The back of the tee has e-mail addresses of important New York City officials. Since many landlords are redeveloping their buildings into luxury lofts and hotels where they can jack up the rent, many factories are forced to leave since rent can no longer be affordable.
On Wednesday, several CFDA members sent out a letter raising awareness of the Save the Garment Center campaign and T-shirt. The letter was signed by Sui, Teng, Calvin Klein Collection's Francisco Costa, CFDA executive director Steven Kolb, Lambertson Truex's Richard Lambertson, Nicole Miller, Narciso Rodriguez, Rag & Bone's Marcus Wainwright and Vera Wang. They are asking other CFDA members to circulate the T-shirt at fashion shows and through their Web sites. The T-shirts will cost designers $6 each to cover the printing and material costs, and orders for the shirts must be submitted to Thomas Miller at Anna Sui by Friday to secure production in time for fashion week. via WWD
Send over a tee and I'll def wear it to promote the awareness!
Categories: fashion
Tags: