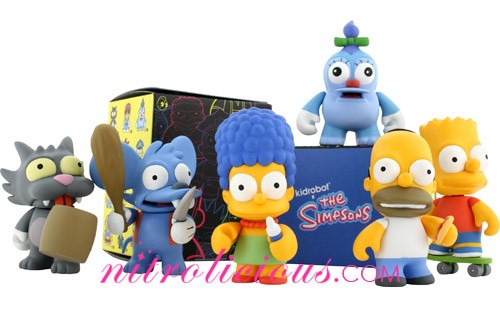 One of my favorite shops, Kidrobot has got together with one of my favorite cartoons, The Simpsons on an all new collectible series! According to the press release, The Simpsons creator, Matt Groening, teamed up with Kidrobot, to release the first-ever Simpsons vinyl toy mini-figure series. For The Simpsons series, Matt Groening infused the line-up of Springfield citizens with a Kidrobot flavor, seamlessly merging The Simpsons' and Kidrobot's worlds.
The Simpsons x Kidrobot mini series starring…Homer, Marge, Bart, Lisa, Maggie, Hippie Homer, Mr. Burns, Smithers, Krusty, Sideshow Bob, Scratchy, Itchy, Apu, Fat Tony, Bumblebee Man, Duffman, Chief Wiggum, Barney, Comic Book Guy, Funzo, Lucius Sweet and Three Mystery Figures- that's all Springfield citizens!!
With 24 figures in total, The Simpsons will be the biggest Kidrobot-produced mini-figure series to date. Each vinyl stands 3 inches tall, includes a character sticker, and comes blind boxed to preserve its identity. Figures will be sold separately (or can be purchased by the case) for $7.95 at all four Kidrobot stores, kidrobot.com and at select retailers worldwide on August 21st! I can't wait, super fab- thanks for the info MS!
Categories: toys/design
Tags: