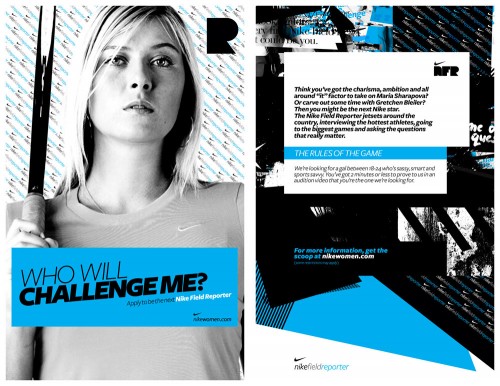 Think you've got the charisma, ambition and all around "it" factor to take on Maria Sharapova? Or carve out some time with Gretchen Bleiler? May be a game of horse with Diana Tuarasi? Then you might just be the next Nike star. Nike is looking for the next Nike Field Reporter whom will jetset around the country interviewing the hottest athletes, going to the biggest games and asking the toughest questions that really matter. Can you challenge the first and current Nike Field Reporter, Brittany Jones-Cooper?
Nike is looking for a female between 18-24 years old who is sassy, smart and sports savvy. Submit a 2 minute or less audition video to prove to Nike that you're the one for them. Good luck!
For more information, check out www.nikewomen.com.
Categories: kicks Uncategorized
Tags: