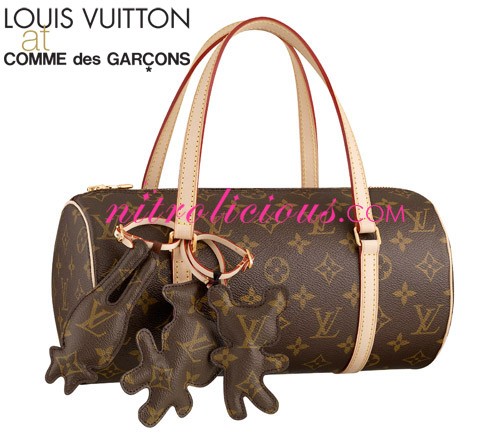 Photography: Jean-Marc Ce?dile for Louis Vuitton / Papillon with animal charms
You've read about the initial announcement of the Louis Vuitton x COMME des GARCONS collaboration and saw a sneak preview yesterday, here is the official press release and images from Louis Vuitton.
Per the press release: On September 4, 2008, Louis Vuitton opens an impermanent store inside Comme des Garçons in Tokyo. The idea for the project emerged from the memories of Comme des Garçons founder Rei Kawakubo. In 1978, as a young designer, she saw the first Louis Vuitton store to open in Japan and was fascinated by the image of French craftsmanship and art de vivre it projected – a luxury that seemed to her, at the time, unattainable. Three decades on, Rei Kawakubo wanted to revisit her impressions, and so the association between Comme des Garçons and Louis Vuitton was born.
Intriguingly, Louis Vuitton is celebrating this year its 30th anniversary in Japan. Rei Kawakubo has dedicated and re-designed the entire Comme des Garcons store on Kottodori, Omotesando especially for Louis Vuitton for the duration of the project, from 4th September through mid-December, into a space that will be a celebration of the Louis Vuitton Monogram. The fruit of this unprecedented collaboration – an exclusive collection of six one-off bags – will be presented in a minimalist space, at the centre of which will be a display of historic Louis Vuitton trunks. Inspired by her memories, Rei Kawakubo chose the legendary Monogram canvas to create two Party bags, small evening purses with outsized natural leather handles. The designer also customized two classic Louis Vuitton bags, endowing the Papillon with kawaii (cute) animal charms and the Mini HL with multiple slender handles. Lastly, Louis Vuitton is reediting two iconic designs from the 1970s – the Petit Marceau and the Sac 2 Poches – which Rei Kawakubo is likely to have seen in the windows of that first Louis Vuitton store.
The bags will only be available upon order, which is only to be placed at the "Louis Vuitton at Comme des Garçons store". No telephone or Internet orders will be taken. In return, customers will receive a certificate inside a special card holder in Louis Vuitton's traditional natural leather, embossed with the Louis Vuitton at Comme des Garçons signature. Only several months later will their bag be delivered to their chosen Louis Vuitton store. Other iconic Louis Vuitton Monogram bags, such as the Speedy and Alma chosen by Rei Kawakubo, will also be on display and available for immediate sale inside this special "Louis Vuitton at Comme des Garçons" store.
Oh man, I think I may need the Papillon with animal charms and Mini HL with multiple slender handles! What do you think of this collaboration?
More info and images after the jump…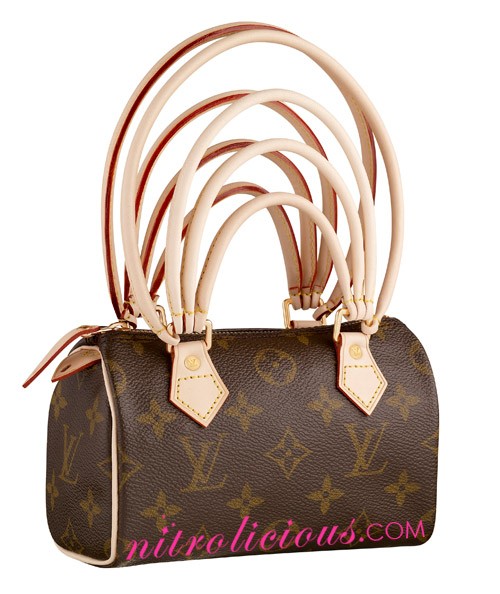 Photography: Jean-Marc Ce?dile for Louis Vuitton / Mini HL with multiple slender handles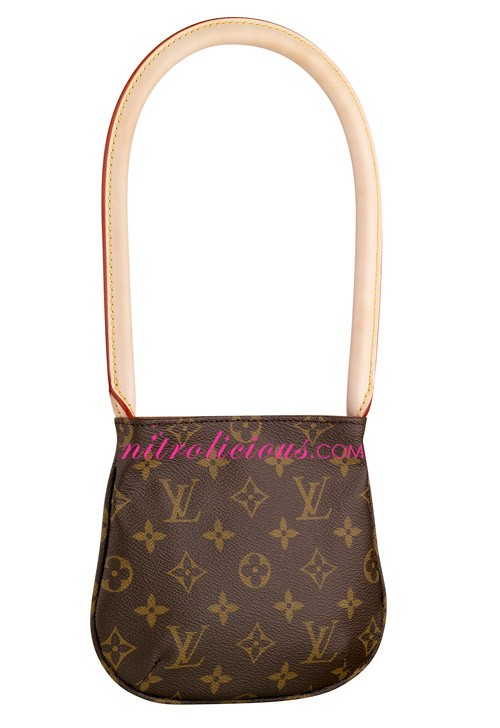 Photography: Jean-Marc Ce?dile for Louis Vuitton / Party Bag (Big)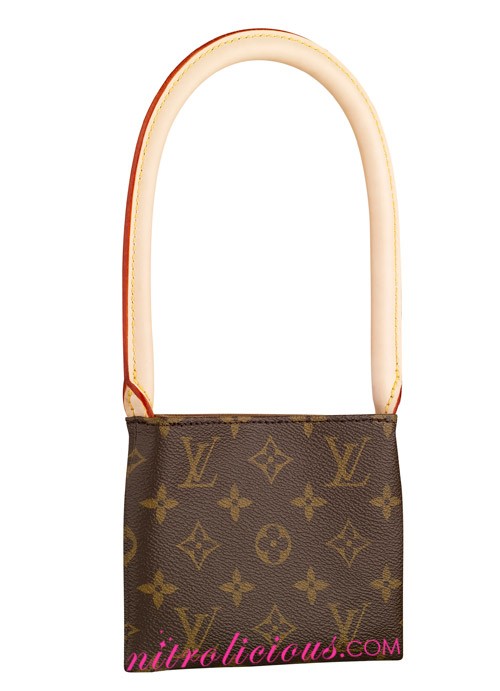 Photography: Jean-Marc Ce?dile for Louis Vuitton / Party Bag

Photography: Philippe Jumin for Louis Vuitton / Sac 2 Poches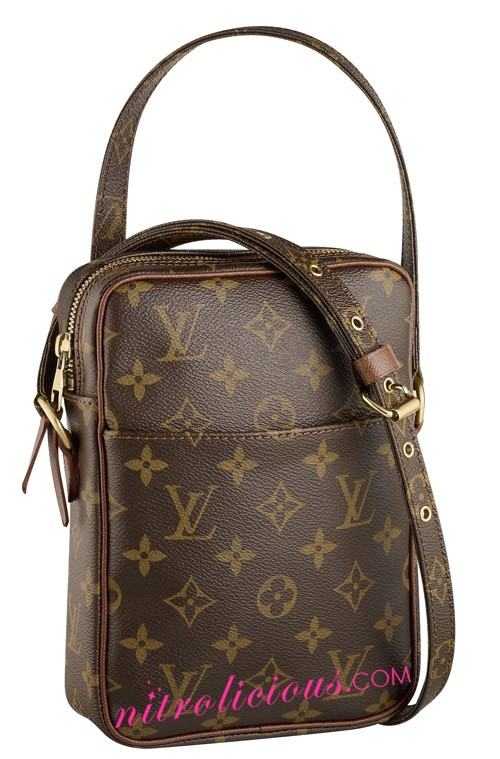 Photography: Philippe Jumin for Louis Vuitton / Petit Marceau
—

Marc Jacobs, Louis Vuitton Artistic Director, who has long been an admirer of Comme des Garçons, comments: "It is impossible to overstate Rei Kawakubo's influence on modern fashion. I find it wonderful to think that, thirty years ago, this immense talent, someone who has inspired so many others, was inspired by Louis Vuitton, and now that inspiration has now been realized."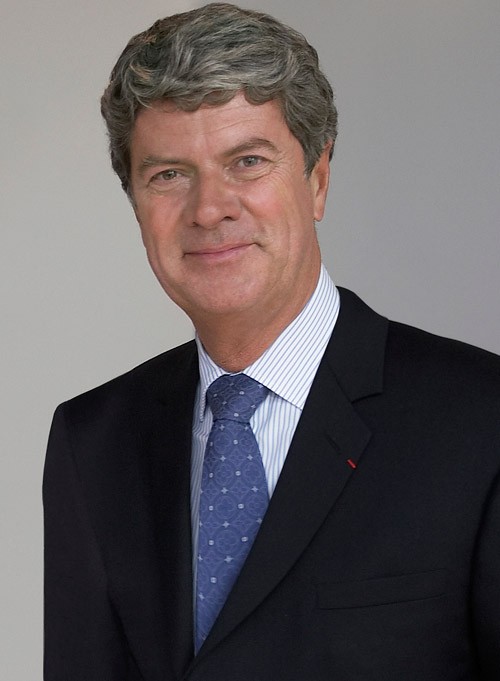 Yves Carcelle, Chairman and CEO of Louis Vuitton, says: "This project not only brings a new meaning to luxury, but also speaks volumes about how the know-how and heritage of Louis Vuitton have always been perceived in Japan, including by its foremost designers. We are very proud to have been able to help Rei Kawakubo relive her memories in such an original and creative way."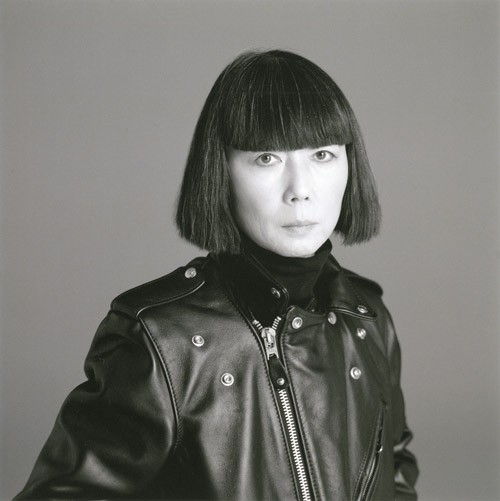 Rei Kawakubo, President of Comme des Garçons, says: "These are party bags to celebrate the 30 years of Louis Vuitton in Japan. In designing them, I have kept Louis Vuitton's traditional concept as it is, but sometimes two handles become one, sometimes two handles become eight… It has been a remarkably exciting opportunity for me to have been able to participate in Louis Vuitton's traditional design and heritage."
Categories: handbags
Tags: