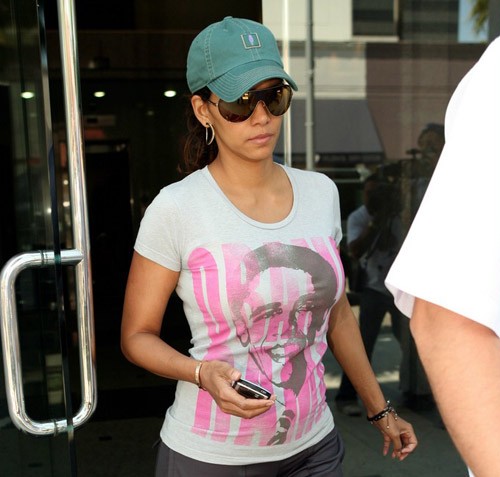 Photography: Celebutopia
Happy July 4th, for those that are staying in today, here's a list of worthy links to check out, click click click!
Looking for a great pair of sandals? Check out the list of alternatives for the "famous" Balenciaga gladiator wedge sandal, which one do you prefer?
Stiletto Jungle shows you where to find the Public Library "Obama Rama" Tee recently spotted on Halle Berry.
Debutante Clothing checks out Vintage LA style
Coquette says add some delicate stitches to your wardrobe with this Summer's bohemian embroidery details.
Stylenotes shows you how to get the flirty, fun look from the Betsey Johnson spring '08 collection.
Quinta Trendstalks to Srta Peel about her sexy underwear collection
The Coveted …Naughty Bows, Nice Bows
Bag Snob gets ultra luxe with Tod's Dokt Bags!
A Few Goody GumDrops Celebrates July 4th with ared patent leather Roger Vivier Handbag!
Sxy Fashion Queen adores Cameron Diaz and Halle Berry's Gerard Darel bags as much as they do.
Need a professional, but sexy look? The Shoe Goddess has the Jimmy Choos for you!
V-Style had found the source of the Two-Tone Color Craze.
Friends: The Movie? Allie is Wired has the scoop on the movie that might be.
They'll all be begging you for mercy when you rock Duffy's retro-glam style. Stylehive shows you how!
The Fashionable Housewife shows us how to copy Lindsay Lohan's classy, sophisticated look.
Beauty Snob gets moisturized with Clinique Superbalm!
Fashion Indie gives you a couple beauty trends to watch for the sumall. (Summer to Fall)
Fashion, Evolved explores the amazing natural beauty resource known as The Organic Beauty Blog!
SugarShock Beauty loves the versatile rainbow of shades in Pop Beauty's Liner Cake eyeliner palette.
The Beauty Stop shows how to get Selma Blair's fresh-faced look.
Enjoy fashionable fun in the sun with these summer must-haves from Fashiontribes.
KRiSTOPHER is wanting, wearing, and hating sexy masks.
Ladybrille names actress/model Tomiko Fraser its Woman of the Month!
My Fashion Life goes crazy for the Samsung F-480 – the dream phone for a fashion blogger!
Second City Style has a ton of helpful tips to help you stretch your fashion dollar.
Calculatus Eliminatus reminds the world that ugly, tacky key chains are slowly killing him. Please stop the violence.
Categories: links/sites
Tags: