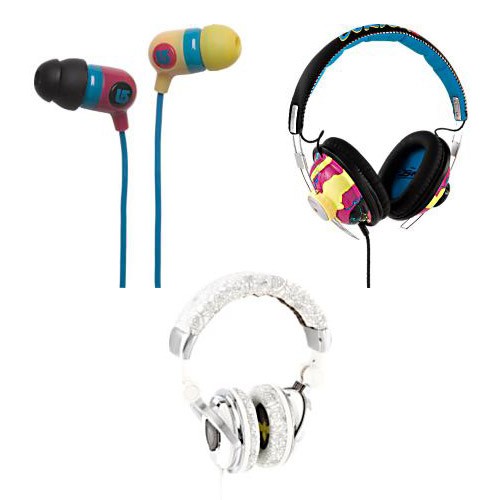 Ear Buds, Ear Goggles and Yo Muffs
Just as you thought Burton only stocks luggages and snowboard gear they've got headphones now. There are three types, Ear Buds, Ear Goggles and Yo Muffs all decked with different colorways and features.
The Ear Buds ($29.95) is available in custom colorways and includes a storage case as well as an in ear design with 3 different silicon tips. The Ear Goggles ($39.95) come with full outer ear coverage and a thumping 44mm driver unit for powerful sound quality. The Yo Muffs ($49.95) have next level response for enhanced sound reproduction and grill shattering bass, these come with a storage case and can be easily collapsed. The headphones are currently available at Burton flagship stores.
Burton
106 Spring Street
New York, NY 10012
212.966.8070
Read more about the specs after the jump…
Burton Ear Buds, $29.95
Burton Custom Color Ways & Artwork
In-Ear Design with 3 different silicon tip designs to allow total comfort
Burton Storage Case (fits new nano)
Driver Unit: 8mm dia. Dome
Impedance: 18 Ohms
Sensitivity: 102dB +/- 3 db
Frequency Response: 20 Hz to 10 KHz
Plug: 3.5mm Stereo Plug
Burton Ear Goggles, $39.95
Burton Custom Color Ways & Artwork
Burton Storage Bag
Driver Unit: 40mm dia. Dome
Impedance: 320 Ohms
Sensitivity: 108dB +/- 3 db
Frequency Response: 5 Hz to 20 KHz
Magnet: NdFeB
Cord: Approx: 0.6m
Plug: 3.5mm gold straight plug with 6.5mm gold plated adapter
Burton Yo Muffs, $49.95
Burton Custom Color Ways & Artwork
Next Level response for enhanced sound reproduction and grill shattering bass
Closed ear cup design to block out the haters
Large audio drivers for dope low end reproduction and superior power handling
Collapsible w/storage sack included
Driver Unit: 57 mm dia. Dome
Impedance: 64 Ohms
Sensitivity: 107dB +/- 3 db
Frequency Response: 5 Hz to 30 KHz
Maximum Power 3500mW
Plug: 3.5mm gold straight plug with 6.3 mm gold plated adapter
Categories: jewelry/accessories shopping
Tags: