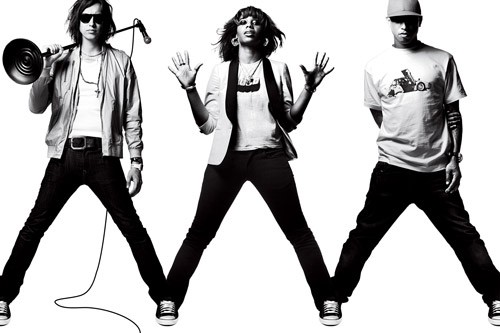 Julian Casablancas (The Strokes), Santogold and Pharrell Williams
As part of the Converse century celebration Pharrell Williams, N.E.R.D., Santogold and Julian Casablancas joined forces to create genre-blending new music collaboration. The artists created a brand new, all original music track, "My Drive Thru," that will be distributed digitally FREE of charge to a global audience exclusively on www.converse.com and authorized Converse web sites around the world. The track will be released on Tuesday, June 10.
In addition to collaborating on the track, the artists also participated in the creation of a music video that will be released during the summer. The song will be promoted, in part through Converse print, outdoor and online advertising tagged Three Artists, One Song. The advertising features the three artists as well as a range of emerging musical talent from across the globe, including MGMT, Bradford Cox of Deerhunter and Atlas Sound, YACHT, Kid Sister, Eleanor Friedberger of the Fiery Furnaces, Frank Carter of Gallows; Does It Offend You, Yeah?, and Sophie of Care Bears on Fire.
"I've always wanted to work with Julian and I'm a big fan of The Strokes. Santogold is super-talented and she cares about music so much that it's not just about sound, it's a visual aesthetic," said Pharrell Williams, the track's producer. "Working together on original music that crossed all of our inspirations was completely refreshing and I love the track. As for partnering with Converse, I only wear and support the things that I like. The Chuck Taylor is the golden goose egg."
The song is currently streaming here. What do you guys think about it?
More pics after the jump…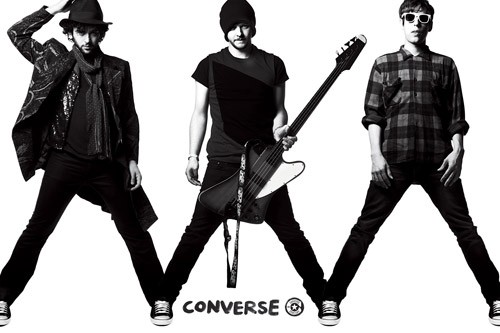 Ben Goldwasser (MGMT), James Rushent (Does It Offend You, Yeah?) and YACHT

Chad Hugo (N.E.R.D.), Kid Sister and Frank Carter (Gallows)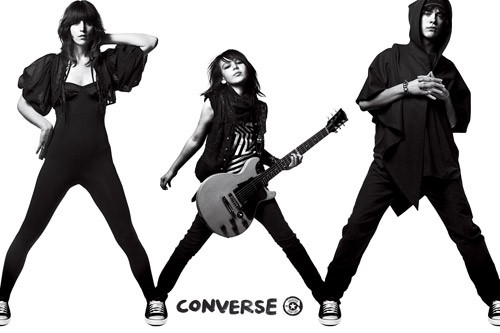 Eleanor Friedberger (Fiery Furnances), Sophie (Care Bears on Fire) and Andrew VanWyngarden (MGMT)
Categories: celebrities entertainment/events
Tags: