Minya & me checking out the show
Yesterday headed out to the Hot 97 Summer Jam 2008 with my gurl Minya aka Miss Info to do some coverage on fashion and some exclusive backstage footage. It was my first Summer Jam and it was definitely "interesting" haha, I went around with Miss Info and the Hot 97 camera crew before the concert to do a lil fashion police and it wad definitely an "eye opener" damn I don't even want to start with that. Then headed to backstage to snap up some pics and Miss Info had to do some interviews, I basically only checked out Alicia Keys, Kanye West and Public Enemey's parts, did anyone here go? It was a long day but quite an experience.
On the side note, I was rocking my knee-high gladiator sandals that Carla bought me for the first time and damn I've gotten so many compliments, stares and acknowledgment it was crazy. I love them!
Check out the pics after the jump…

Before the show, Minya getting her makeup and hair did…

All beautified and ready to go…

ALL ACCESS, which was helpful…

DJ Envy passed through to talk to Minya…

Fashion Policing…haha this was the highlight of the day, seriously!

Angie Martinez and Fabolous

Angie rockin' an ill tan from DR…

Ray J

LL Cool J

Stepped out to check out Alicia Keys perform, she's HOT!

A-TRAK, Minya & Kid Sister

Alicia Keys leaving after her performance, she is mad phly in person too!

Minya interviewing Jadakiss and Sheek Louch

FLAVA FLAV, so funny how every says that when they see him haha

Minya and Flav, talking fashion…his clock…

Rick Ross, Method Man and Minya – check his chain with his face as a pendant, that's status haha

Method Man and me, he's super tall hahah, such a cutie!

Freeky Zeke, Jim Jones, Minya and Juelz Santana

The crowd when I went out to check Kanye's performance…can't miss that!

Kanye came out with a black pair of Nike Air Yeezy, I was trying to get a picture of him hitting the dressing room but he had an entourage with him. He was holding a Louis Vuitton Multicolore case and rocking a pair of Nike Air Yeezy in tan/white if I didn't remember wrong.

It was super hard to get photos of him even though I was practically on stage b/c of all the smoke, he was the only one with all that and even fireworks at the end of his performance. It was like July 4th!

It was indeed a very hot day, not sure how Kanye can manage to rock his Moncler vest, a hoodie and a tee on stage with all those lights…props!

Even Kanye's backup singer is in a uniform, super DOPE!

This "thing" opened for Kanye and was out there for about 2 secs…pretty kewl looking.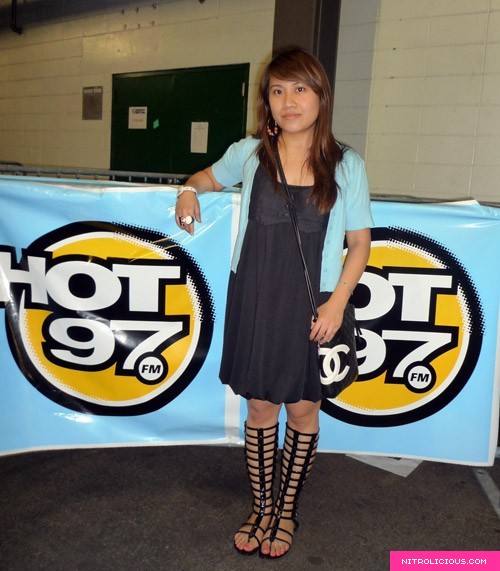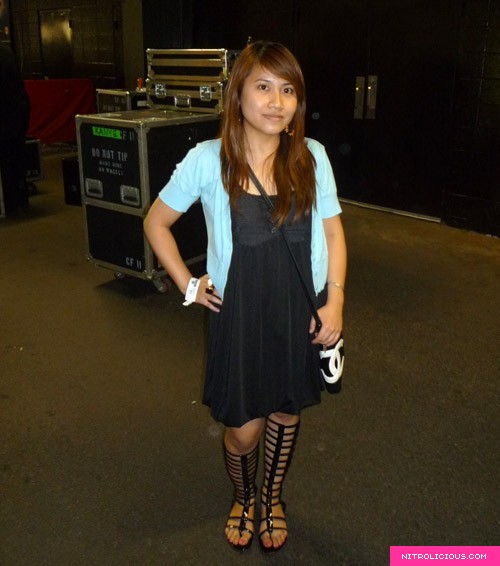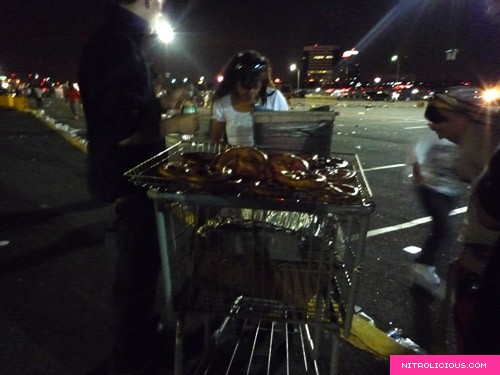 WHAT THE?
Categories: celebrities entertainment/events outfits
Tags: