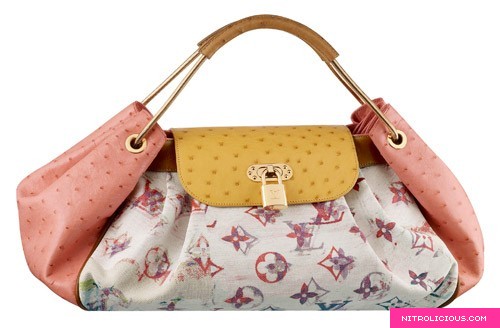 Photography: Louis Vuitton / The limited edition Jamais bag
To concur with artist Richard Prince's first UK solo exhibition "Continuation" at the Serpentine Gallery in London this summer, Louis Vuitton released 50 limited edition Jamais bags featuring ostrich and canvas. The bags will be numbered and signed by Prince and sold exclusively at LV's Sloane Street store in London during the exhibition from June 26th to September 7th. The Jamais bags will retail for about US$17,800 with a portion of the proceeds going to Serpentine.
Vuitton also plans to host a dinner in Prince's honor June 24 in a tent inspired by the one used to unveil Vuitton's spring 2008 collection in October in Paris, where the artist's collaboration with Vuitton's artistic director, Marc Jacobs, was unveiled.

Jacobs and Yves Carcelle, Vuitton's chairman and chief executive, will host the dinner for 120 guests, which will be preceded by an "art talk" between Prince and Tim Marlow of White Cube gallery. via WWD
The bag is fab, I personally really like the Richard Prince collaboration especially the Watercolor Collection!
Categories: handbags
Tags: