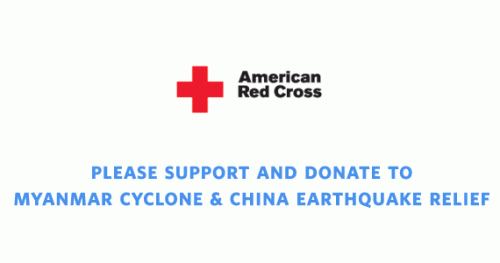 Dear nitro:licious Friends,
Please take a moment right now and pray for those that lost their precious lives, family members and homes during the disastrous Myanmar Cyclone and China Earthquake this month. Even looking at the images makes me cry, imagine the vulnerable people in China that were affected. Please take a moment to donate (whatever you can will be appreciated) to the China Earthquake Relief and Myanmar Cyclone efforts. I have donated $300.00 to the American Red Cross along with my sister sites Sneaker News and Freshness which made a donation of $1000 each. If you run a website/blog, please also link your readers to the American Red Cross donation sites. Your donations will definitely help meet critical needs like shelter, food, relief supplies and other emergency assistance, your generous support will mean a lot to those in need. If you wish to donate somewhere else, please make sure to donate to a reputable organization. nitro:licious THANKS YOU in advance!
On Friday, May 2, 2008, tens of thousands of lives were lost and hundreds of thousands of homes were damaged when Cyclone Nargis unleashed high winds, heavy rain, and floodwater in southwestern Myanmar.

On Monday, May 12, 2008, a major earthquake, measuring 7.9 8.0 on the Richter scale, jolted southwestern China's Sichuan Province. Several lower-scale earthquakes and aftershocks followed in the same area. The quake destroyed many buildings in the area, as well as infrastructure like communication towers. According to the latest reports, more than 12,000 people have died and many more have been injured or are still missing. Many schools were destroyed, including one that had at least 900 students in it. As authorities reach more remote areas, these numbers are expected to rise.
> DONATE: American Red Cross China Earthquake Relief
> DONATE: American Red Cross Myanmar Cyclone Relief
My mom told me a bittersweet news report yesterday, I was deeply touched by the story of a courageous mom and her baby: "My dear baby, if you can survive, please remember mom loves you". Read about the story after the jump…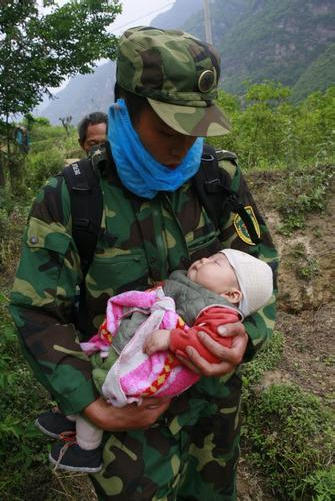 She's already dead when the rescuers found her. Through all the debris, one can see her lifeless body, knelt down, upper body stretched forward, with both hands tried to push up. It looks as if she's trying to worship something or pray. The rescuers stretched out to reach her, looking for those non-existent life signs. When all those failed, they still called out and tried to use tools to make noise around her. There's nothing. Those who are already numbed by all the devastating scenes moved on. But right before the rescuers reached the next pile of debris, the leader of the group yelled out "Come back! Come back!" as he ran back to where the woman is. He knelt down, tried to squeeze his hands down the body. After a few attempts, he screamed, "There's a baby down here! There's a baby down here!"
It is a three or four month old baby, neatly wrapped by a flowery blanket. He's still sleeping, so peaceful as if all these disasters are just in our dreams. As one doctor tried to do a quick exam on him, he felt something tucked right between the blanket and the baby. It was a cell phone, with a text message typed in on the screen, "My dear baby, if you can survive, please remember that I love you."
Categories: Uncategorized
Tags: