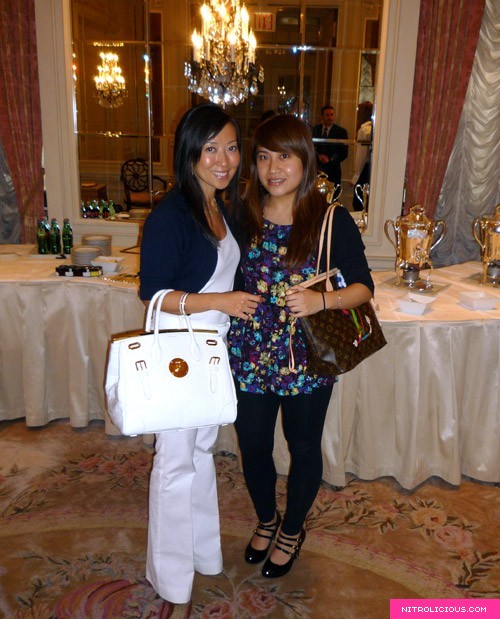 Tina and me at the breakfast
Yesterday I was invited to have breakfast with Louis Vuitton's CEO of North America, Daniel Lalonde and Senior Vice President of Marketing and Communication, Heather Vandenberghe, along with their team to have an intimate conversation about "my world", the blogging world. A selected group of bloggers including myself were handpicked and invited to join them in a round table discussion about the blogging community and how LV can better communicate with us to deliver their message to the consumers. I was a bit surprised when I received an invitation but at the same time excited and eager to find out what they're up to. Since the blogosphere is growing rapidly and blogs are more organic than glossies, it's no wonder why LV wants to know how they can work with us. I'm so glad that they're acknowledging the importance of blogs and what the internet can bring, its a great start. I also think it is essential for them to receive feedback through comments on the blogs about their products, campaigns and anything related to them whatsoever, on the blogs its a two way communication versus the one way communication through fashion magazines. We've touched on many topics and gave suggestions and feedback, too much that I regret I didn't bring a recorder to record the discussion. I was also quite impressed to hear that Daniel and Heather actually reads all the comments sent through to their customer service center. It was an eye-opener for me and I definitely learned something new. It was a pleasure to meet the LV team and the wonderful bloggers, Tina from Bag Snob, Daniel from Fashion Indie, Rebecca from Fab Sugar, Lesley from Fashion Tribes, Aaron from Haute Concept and a few others! This is the beginning of something wonderful!
The Director of Advertising, Eric Lichtmess gave us a tip that their next Journeys campaign will consists of a couple. Can you guess who? I automatically thought it might be Brad and Angelina or The Beckhams, stay tuned for that…
My first LV bag was a Speedy 30 passed on from my mom, I still have it and its still in great shape. Then as I started working my collection started to grow and so did hers. The LV x Murakami 'LV Hands' Neverfull is currently my prized possession, I wore that bag along with my H&M floral printed top (courtesy of H&M) – the vivid colors were a perfect match. I also felt very good when I stepped into the breakfast, the LV team was raving about the bag too. My collection consists of mostly the Monogram Canvas, it's a classic and you can't go wrong with it. It's crazy but I have to say their goods lasts a very long time, I had my wallet for over a decade and its the only wallet I use – it still in great shape and it doesn't even look that old! BTW did I ever mention that while I was in Hong Kong, I've noticed that about every 5 out of 10 girls owned a Neverfull? My friend that lives in Beijing said it's the "official" bag of Asia, it's totally sold out so when he came to NYC he headed straight to a LV store to buy his wife one – how bizarre is that? How many LV bags do you own?
Categories: entertainment/events handbags
Tags: