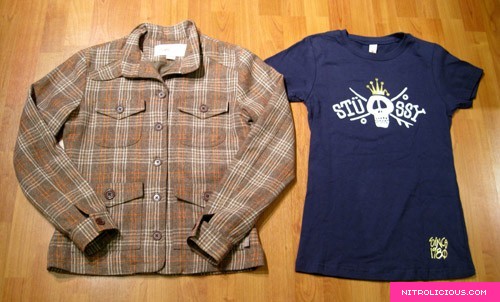 Miss Behaven Jacket (Brown) & Tee – both size medium
While cleaning up my room this weekend I found a bag labeled "nitro:licious giveaway" under a pile of clothes that have been stacking up since I came back from Hong Kong. I didn't realize that I still have the third Stussy Girls giveaway, my bad!
The last giveaway is for the Miss Behaven Jacket and a graphic tee in size medium, one (1) lucky winner will be randomly chosen to receive both items. Good Luck! Sponsored by Stussy Girls.
Giveaway Starts: Monday, May 12, 2008 – Now
Giveaway Ends: Sunday, May 18, 2008 – 11:59pm EST – Giveaway has ended, thanks for participating!
*Winner will be announced on Monday, May 19, 2008
edit:
The winner was chosen, check here to see if you won!
Please follow the guidelines below to be considered, one comment per person…
Giveaway Guidelines (all must be completed to be considered):
Sign-up for my weekly newsletter.
Age / Location (City, ST).
What's your favorite magazine and why?
Categories: contest/giveaway streetwear
Tags: