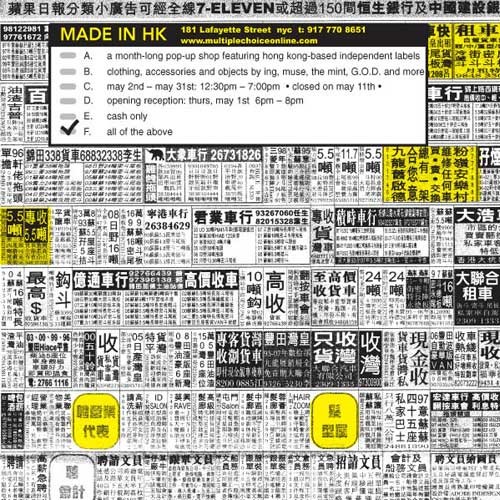 Made in HK
181 Lafayette Street
New York, NY 10013
917.770.8651
May 2, 2008 – May 31, 2008
12:30pm – 7:00pm
For all the people that luv Hong Kong, shopping there or wish they were there, Multiple Choice has brought Hong Kong based independent labels to NYC for a month long project labeled, "made in hk". The pop-up shop features clothing, accessories and objects by ING, Muse, The Mint, G.O.D. (one of my fave shops) and more. If you're planning to go shopping, be sure to bring cash they do not accept credit cards. I'll swinging by one of these days this month to check out what's good, has anyone went yet? Thanks to reader Rowie for the tip!
(multiple choice) is a project-based retail venture. each project will take on a different form depending on its concept, which can be anything from a place or a function, to a colour or even a texture. its debut project, "made in hk," takes the form of a month-long guerrilla store featuring clothing, accessories, and objects by hong-kong based independent labels. their innovative designs are a vibrant counterpoint to the negative stereotypes conventionally associated with the "made in hk" label.
Categories: shopping
Tags: