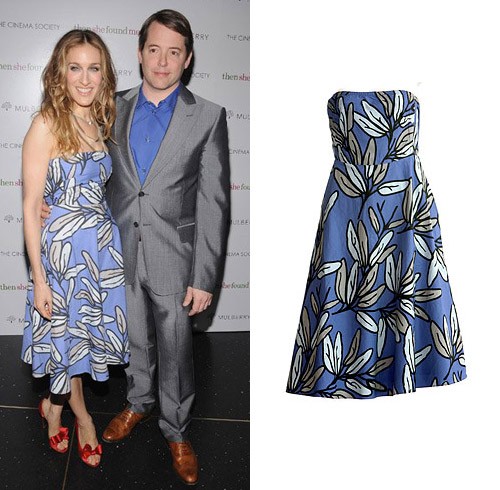 Photography: Wire Image and Tony Cenicola/The New York Times
Sarah Jessica Parker at THINKFilm's New York Premiere of Then She Found Me wearing a blue flower summer dress from her own line, BITTEN. She looks good in it and the dress doesn't look cheap at all, I would of never guessed it was $8.98. It's great to see the celebs actually wearing "their" own clothes and getting photographed in it, it proves they believe in their own lines, or at least more convincing. Now that this dress has been seen on SJP, Steve & Barry's will be kept busy for awhile. I haven't been into a Steve & Barry's for a hot min, it's always overly crowded in there.
Steve & Barry's is also planning to branch out to downtown taking over the old Tower Records store on Broadway targeting NYU students. The store plans to open in fall and will the largest in New York. via NYT
edit:
I'm such a nut, I went onto the BITTEN page and didn't even realize that they will be selling Sex and the City official movie merchandise until reader Tracey pointed out (haha)! Keep checking back for release dates, the movie opens on May 30th I can't wait!!
Categories: celebrities fashion
Tags: