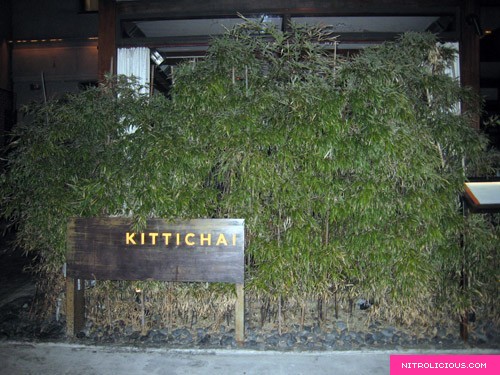 Kittichai
60 Thompson Street
New York, NY 10012
212.219.2000
www.kittichairestaurant.com
The Scene
Orchids abound. They're submerged in cylindrical glass vases in the small bar area; in the dining room, they climb up teak posts surrounding a bottom-lit pool. Jewel-toned raw-silk curtains and teak lattice, used to break up the boxy space, add further intrigue. Service in the dining room is well-tuned and well-versed in the nuances of the menu.
The Food
Chef Ian Chalermkittichai brings New York what it has long been missing: truly excellent Thai food. Flavors are sharp, bright and clearly defined; the chef's skill is particularly obvious in familiar dishes like Thai beef salad, which rings of lime and hot chili on the palate, and a perfectly calibrated, addictive green curry bearing incredibly tender short ribs. The sea bass, marinated in a sweet-salty bean paste, is Chalermkittichai's answer to Nobu's black cod, and it's equally stellar. The kaffir lime tart is a fitting denouement. – Citysearch
On the first day of my return from Hong Kong on April 7th which is my mom's birthday, we went to Kittichai to celebrate. I was kinda skeptical going there since some of my friend's weren't a big fan of this spot but my bro seems to like it so I gave it a try. The atmosphere was great, very pretty especially the pool in the center with floating lit candles and water lilies. It was a comfortable dining area and even the bathroom was interesting, the restaurant in general is very mysterious and intriguing. Overall the food was decent, we ordered a lot of appetizers and entrees to share. I felt that the dessert definitely has room to grow, didn't really like it. We ordered a lot of dishes and the menu seemed to have changed so I'll try my best to remember what we ate…
Peep the dinner pics after the jump…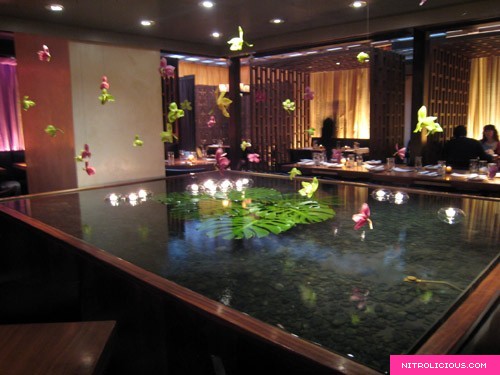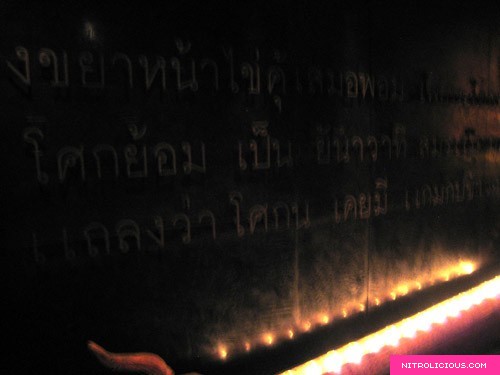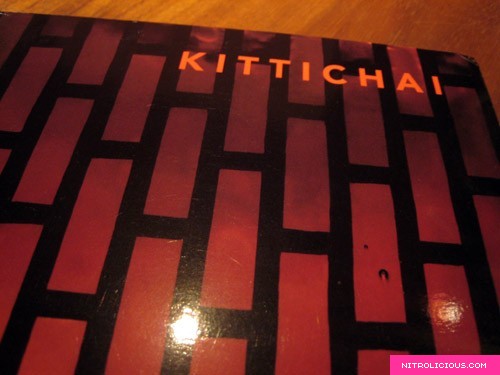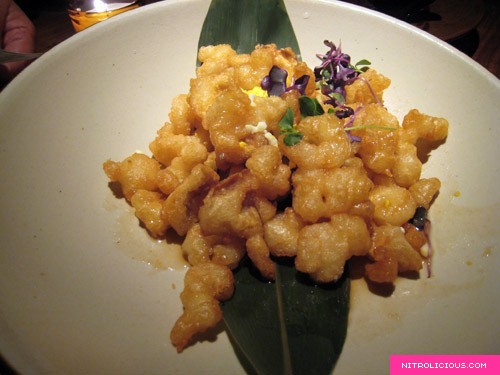 Seabass Tempura with sweet chili-tamarind sauce $16.00

Northern Thai Beef Salad chinese long beans and roasted sticky rice powder $13.00 (I think)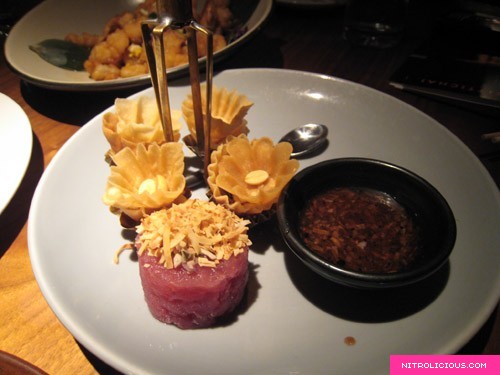 Grade A "Meing" tuna tartare, limestone tartlets, peanut, ginger and lime $12.00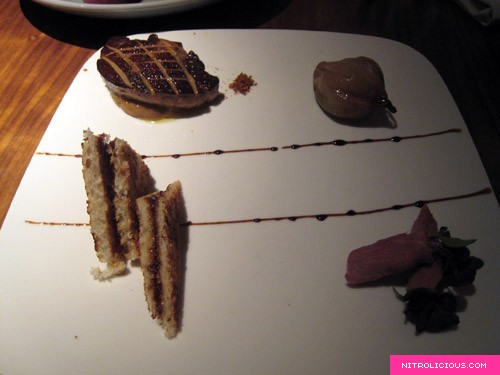 I think this was Foie Gras?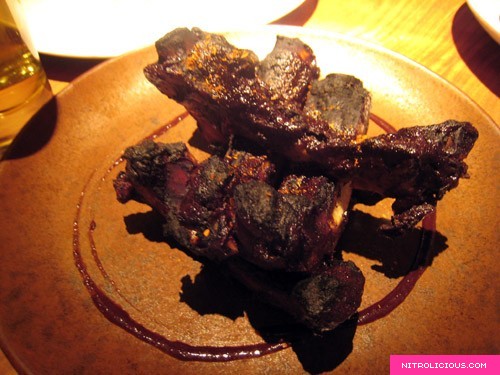 Chocolate Baby Back Ribs with thai spices $11.00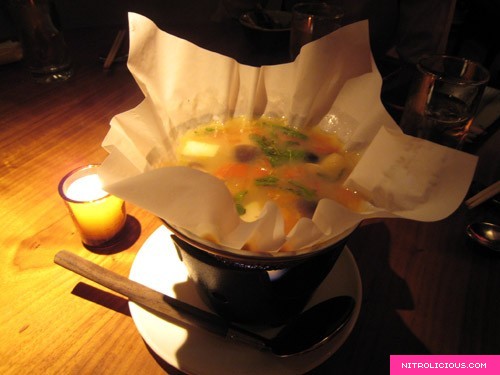 Spicy and Sour Seafood Soup with kaffir lime leaves, bird-eye chili and tomato $10.00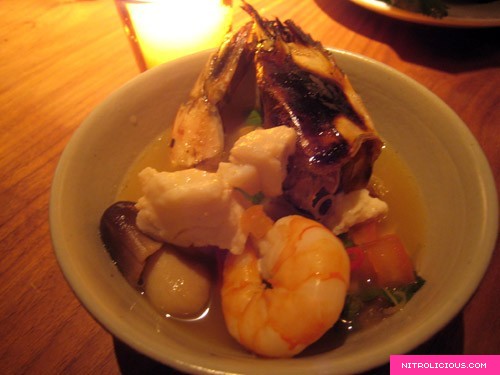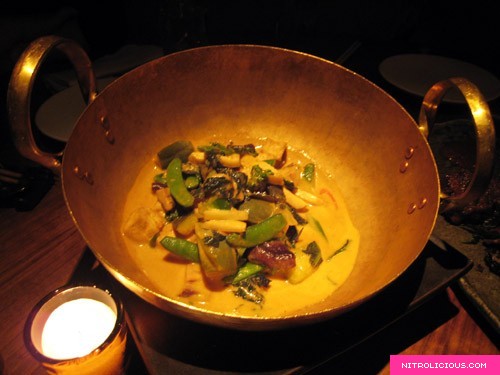 Curry Vegetables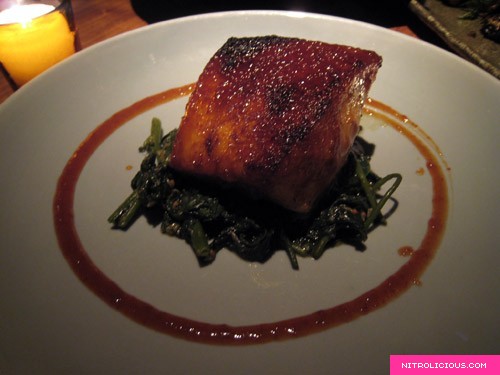 Baked Chilean Sea Bass marinated in yellow salted beans with morning glory $28.00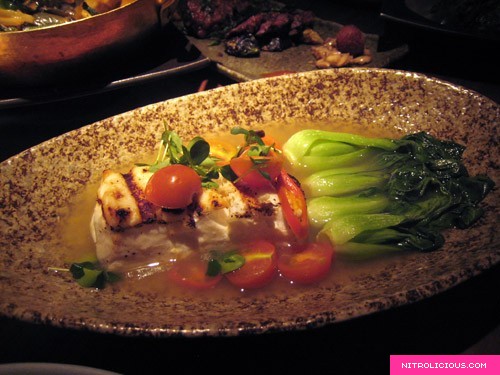 Another fish dish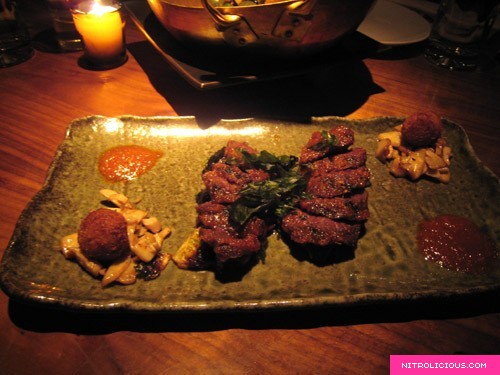 Sliced Prime Aged Rib-Eye, Wok-Fried King of Oyster Mushrooms, Wok-Roasted Chili Sauce $36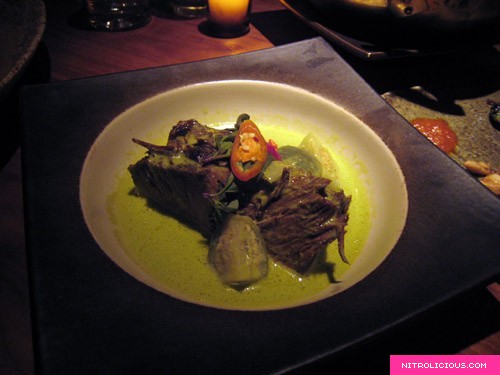 Pineapple Braised Short Ribs in Green curry, Thai Eggplant and Sweet Basil $24.00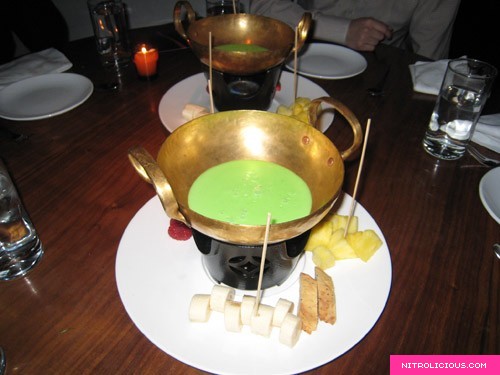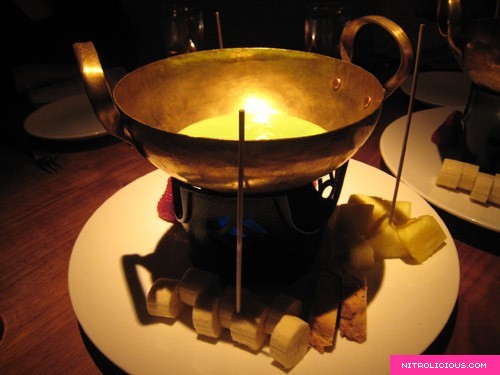 Categories: eats
Tags: