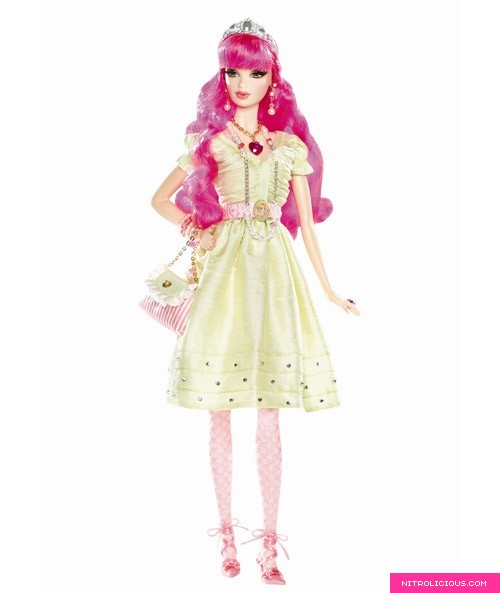 TARINA TARANTINO's accessories has been seen on many celebrities and featured in many magazines. She has also launched the BARBIE by TARINA TARANTINO collection, now she has a Barbie doll.
The TARINA TARINTINO Barbie Doll was inspired by "a day in the life" of the designer, this doll seems to step right out of the famous Sparkle Factory where Tarina creates her collections. From her glam tiara and sparkling necklaces to her pink ring, bracelets and Barbie accented belt, this doll is all about the accessories. The doll also features the designer's signature fuchsia hair and is dressed in a summery light green dress dusted with tiny glittering crystals. Everything from the doll to packaging is detail oriented, even the packaging was designed to resemble her Los Angeles flagship boutique.
This limited edition doll is part of Mattel's "Gold Label" collection, the doll will be available at TARINA TARANTINO stores in New York, Los Angeles, Milan, and Tokyo, as well as specialty boutiques nationwide and at www.barbiecollector.com for $80 releasing this May.
Categories: toys/design
Tags: