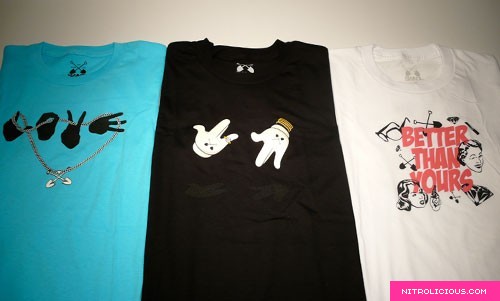 Set 1 – Size: Medium

Set 2 – Size: Large
After a long break from giveaways, I am finally getting back into action. Actually this giveaway was suppose to happen before my Hong Kong trip but I got too tied up with things so it got delayed till now. But better late than never right?
Just in time as the warm weather approaches, the best thing is to rock a fresh tee out with some dope kickz. This time I teamed up with SWNDL to giveaway two (2) sets of tees to two (2) lucky winners, each set consists of three (3) tees from SWNDL's Spring 2008 Collection. If you're a size medium or large in women's tees then you're in luck. The two (2) winners will be chosen randomly and announced on Monday, May 5, 2008. Good Luck! Sponsored by SWNDL.
Giveaway Starts: Thursday, April 24, 2008 – Now
Giveaway Ends: Sunday, May 4, 2008 – 11:59pm EST – Giveaway has ended, stay tuned for the winners!
edit:
Winners were chosen, check here to see if you won!
Please follow the guidelines below to be considered, one comment per person…
Giveaway Guidelines (all must be completed to be considered):
Sign-up for my weekly newsletter.
Age / Location (City, ST).
Which set do you want?
Answer Question: What are the three (3) things that you consider when buying a t-shirt? ie. style, etc…
One entry/comment per person or you will be automatically disqualified. Please be sure to complete all guidelines or your entry will not count! Good Luck…
Categories: contest/giveaway streetwear
Tags: