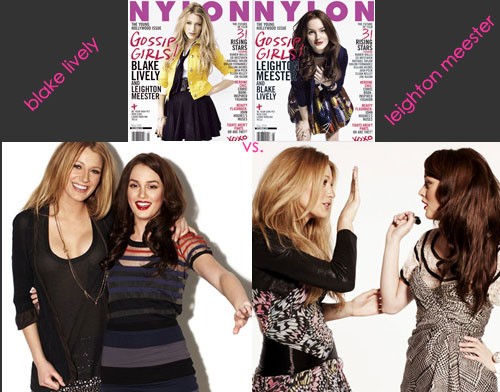 Your favorite Gossip Girls, Serena Van Der Woodsen (Blake Lively) and Blair Waldorf (Leighton Meester) feature on alternate covers of the latest issue of Nylon Magazine. Yesterday I received my copy with Leighton Meester gracing the cover. Who's your favorite Gossip Girl? Here's a snippet from the story…
"Serena is more thrown together and effortless and doesn't really care, and is just like, has this sexiness to her without trying, and Blair is really uptight and conservative and put together and everything has to be perfect, you know Chuck is kind of cocky and he's just like, I don't know, a prick." – Leighton, on Gossip Girl style.
On the side note: Mark your calendars for April 21st as Gossip Girl returns, I seriously can't wait!
Categories: celebrities entertainment/events
Tags: