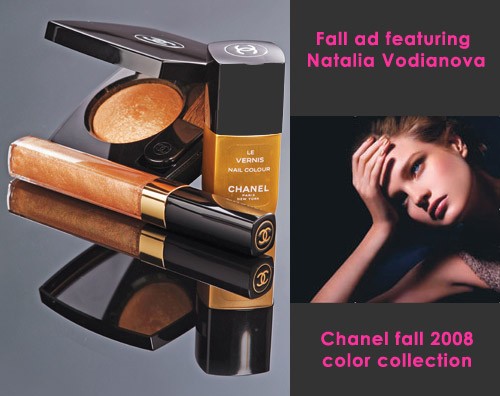 The new Chanel fall 2008 color collection, created by Chanel's new creative director of makeup, Peter Philips is slated to hit stores in July followed by his holiday collection which will continue with more gold.
Philips says the inspiration "was the apartment on the Rue Cambon where Coco worked and lived that really inspired this first collection. The apartment is so cozy, with lots of warm brown, bronzes and golds; an elegant gold-framed mirror, and a rough crystal chandelier. They all ended up in this collection in some way — whether it is a reflective surface, or a color."
The fall collection includes Gold Fiction (a softly shimmering nail polish) $30; Facettes D'Or (a finely milled gold loose powder that reads on the skin as a subtle glow) $56; Gold Light Glossimer (lip gloss) $26; Rouge Hydrabase (lipstick shades in copper, plum and coral) each $27, and a quad eye shadow palette with gold, coffee, ivory and dark green eye colors $56. Gold Fiction is also more expensive than the usual $20 bottle, "we've used high-end pigments to get the color and finish just right, and the outer bottle is also done in an [opaque] gold case."
For the holiday collection, gold continues and will include Poudre Precieuse Or (a gold highlighting powder) $75; Gold Shine (a gold Glossimer lip shade) $26; Noir Scintillant (a black eyeliner with gold sparkle) $28, and Haute Chocolate (a gold brown nail shade) $20. via WWD
Will Gold Fiction be the next Blue Satin?
Categories: beauty
Tags: