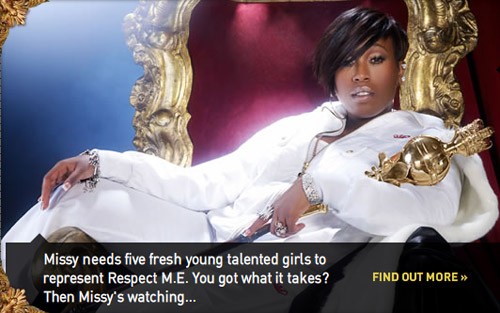 The unique partnership between hip hop icon Missy Elliott and adidas Originals continues with the worldwide launch of the Respect M.E. talent competition starting in March 2008 exclusively on the www.adidas.com/Missy micro site. With Stand up. Be seen, the line presents an outstanding force for social good, aiming to recruit 10 female ambassadors for Missy and the urban streetwear brand – all embraced by the values of respect. Selected finalists announced in June will celebrate their originality while appearing in the Fall/Winter 2008 Respect M.E. campaign which will include its characteristic Bass Line and Rhythm Line. In September, Missy will select only 5 of those 10 girls to be the exclusive ongoing faces of the Respect M.E. range, starting with the Spring/Summer 2009 season.
Who's Missy Looking For:
Talent. Passion. Determination. Individuality. It doesn't matter if you're a performer, an artist or involved in the community – if you've got it, it's time to put it on the line, stand up and be counted. Missy's hungry to see what you've got to offer.
If you got what it takes, visit www.adidas.com/Missy to enter the contest! Good Luck!
Categories: celebrities kicks streetwear
Tags: