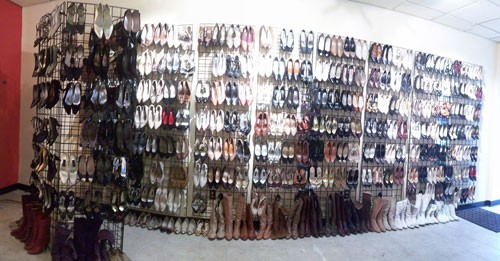 Girls Love Shoes
29 Ludlow Street
New York, NY 10002
917.250.3268
Girls Love Shoes (GLS), which girl doesn't? GLS' eCommerce website launches this month, the launch coincides with the exciting opening of the new GLS boutique on the über-trendy Ludlow Street. Also known for their popular GLS Vintage Shoe Rental Archive on Hester Street, the launch of both the boutique and eCommerce site marks a step up for the sisters, Zia and Dana Ziprin. Fans and newbies of GLS can choose to shop either in-store while in New York or online from anywhere in the world.
The new GLS Boutique is located at 29 Ludlow Street. The boutique spans 500 square feet and houses approximately 300 pairs of vintage shoes ranging from the early 1930's to the early 1990's from sizes 41/2 to 12. The shop carries shoes in assorted colors and a wide variety of fun styles that allure shoe connoisseurs to the collection. GLS carries vintage Yves Saint Laurent, Maud Frizon, and Charles Jourdan, to name a few designer favorites. You'll also find many offbeat 80's labels such as Wild Pair, Candies and J. Renee sprinkled in.
Since opening the doors of the GLS Rental Archive in 2005, the Ziprin sisters have collected and now curate an amazing collection consisting of thousands of beautiful vintage shoes. Some of the styles available for rent include flats, sandals, pumps, and boots. The Rental Archive spans 1,200 square feet and is located at 85 Hester Street. They house over 3,000 pairs of shoes dating from the early 1800's to the early 1990's. Some of the most prestigious shoe designers in the world visit the Archive to draw inspiration. Costume designers for Film, Broadway and Television find the archive extremely helpful for period pieces.
Both launches make way for upcoming Ziprin projects such as a vintage shoe book: Elevated Souls and the launch of the much anticipated Zia Ziprin shoe line in Fall 2008. Fashionistas and shoe lovers everywhere are in for a shoe-tastic experience!
I've visited GLS a few times during the weekends, the shop is filled with interesting vintage shoes on the walls and on the floor. All shoe fans will have fun picking through to find that special pair!
Categories: shoes shopping vintage
Tags: