Photography: Marcio Madeira (Hussein Chalayan Fall '07 RTW)
According to Forbes, PUMA AG plans to make an announcement to the press tomorrow jointly with fashion designer Hussein Chalayan! The collaboration is scheduled to coincide with Paris' fashion week. PUMA has previously collaborated with Alexander McQueen, Mihara and others, I'm quite anxious to see what they have in works! Thanks YM for the tip! More info forthcoming…
edit: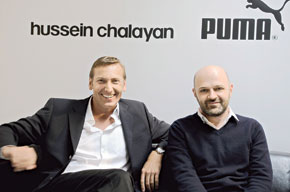 Puma chairman and ceo Jochen Zeitz and Hussein Chalayan
According to WWD:
Designer Hussein Chalayan was named creative director and acquired a majority stake in his signature fashion brand. Chalayan becomes Puma's first creative director, according to Zeitz, as well as the first fashion designer to be appointed as creative director of a major sports label. Last year, retail and luxury conglomerate PPR purchased a 62.1 percent stake in Puma. Effective immediately, Chalayan will take on the creative mantle designing all product categories — footwear, apparel and accessories — for Puma's Sport Fashion and lifestyle categories. The collections, which will be positioned at a premium price point for the sportswear category, will be sold through select Puma stores, key concept stores and shop-in-shops worldwide.
I can't wait to see what's going to happen next!
Categories: fashion jewelry/accessories kicks
Tags: