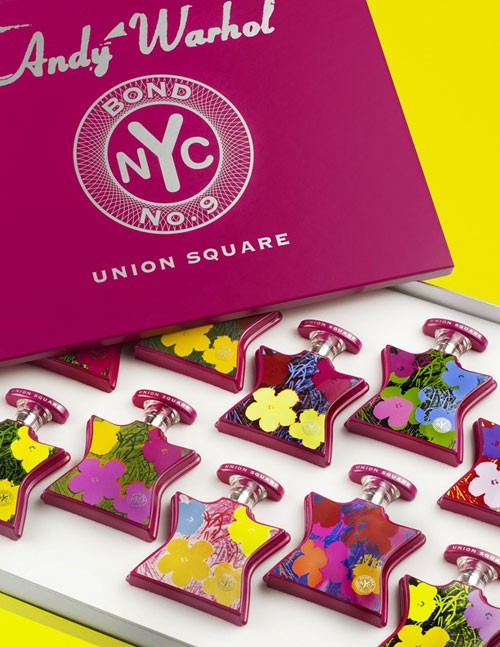 After Andy Warhol Silver Factory, the latest neighborhood fragrance is Andy Warhol Union Square, it's the second in Bond's Warhol series, made in collaboration with The Warhol Foundation. Both the florals and the location were the inspiration for Andy Warhol Union Square, arriving on counter in March 15th, because after all, "My favorite smell is the first smell of spring in New York," Warhol once said. 
The scent, a seductive green floral that's simultaneously cool and warm, is housed in the slim Bond No. 9 superstar flacon, this time displaying Warhol's flowers as its surface design. While most floral fragrances just hint at cool, and vice versa, this one is an ambi-sexual, daringly balanced mix of sweet and cool.  Sometimes the gentle scent of lily of the valley seems about to prevail, looped together with blue freesia, golden amber, and animal musk to enhance its sensuality.  At other times, crunchy green-stem notes and white birch wood are poised to turn this scent into one of pure, clean energy.  But then the sweetness and the coolness merge, and stay merged. 
LILY OF THE VALLEY in a deliciously impudent frame of mind
Uncorruptible GREEN STEM NOTES
SWEET BLUE FREESIA, having its 15 minutes of fame
WHITE BIRCHWOOD—our very own Nature Girl
Decadently mellow AMBER
SILVER-CLOUD MUSK ACCORD that's sultry on the outside, cool and collected on the inside
More info and one more pic after the jump…
The bottle surface design places Warhol's artistry in a new medium:  the surface of the sculpted glass perfume flacon.  There's fuchsia, red and yellow colored flowers with blue colored blades of grass.  Like nothing found in nature, these flowers remain on the two-dimensional plane.  They are like psychedelic paper cut-outs superimposed above the blades of grass, which have an outsized life of their own.  Yet the two coalesce in the overall composition, just as the scent's floral and green notes merge in their own artistic composition.
Available in 100 ml and 50ml flacons, Andy Warhol Union Square will be available at Bond No. 9's four New York boutiques, www.bondno9.com, 877.273.3369, and at Saks Fifth Avenue nationwide. Suggested Retail Price: $195 for 100ml; $135 for 50ml.
And for the serious collector who desires complete Warhol series (Is there any other way to collect?): We present a Portfolio of ten different bottles.  They are meant to be viewed as one, as Warhol intended for his Flowers.  Launch date: March 2008.  Suggested retail price: $1500 for ten 100ml bottles. 
 
In the Mother's Day nick of time, a new level of luxe.  A bottle of Union Square wrapped with a limited-edition Robert Lee Morris Warhol-inspired Flowers necklace in sterling silver.  Launch date: April 2008.  Suggested retail price: $575 for a 100ml bottle and a 36" Robert Lee Morris necklace.
Like New York and all the U.S., Bond No. 9 is going green. And we need your help to get it done. Just bring your empty perfume bottles—ours or anyone else's—to Bond No. 9 boutiques and Bond No. 9 perfume counters at Saks Fifth Avenue nationwide. We'll take care of the rest. And by way of an eco-friendly thank-you, we'll give you a refillable pocket spray. Free with any purchase.
Categories: beauty
Tags: