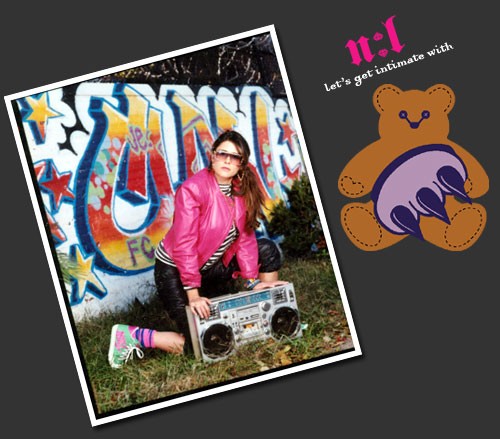 Interview with Claudia @ Claw Money
Interviewed by Tom Bradley
Photograhy from Claw Money
Produced by Wendy L.
*I APPRECIATE THE LUV FROM YOUR SITE, BUT PLEASE REFRAIN FROM COPYING THE ENTIRE INTERVIEW/IMAGES TO YOUR SITE. A LINKBACK TO THE INTERVIEW FROM YOUR SITE IS GREATLY APPRECIATED. THANKS.*
Before I met the lady behind Claw Money I was already admiring her work, I loved how she transforms vintage Chanel (and many other designers) scarves into a one of a kind jacket – no one piece is identical. Then news broke that she will be collaborating with Nike to create a Blazer and a Vandal Hi, props to her. I finally got to meet Claw at the night of the Vandal release party at iHeart, it was quite a funny night. Seemed like she was a bit tipsy and was cracking jokes, I wonder if she even remembered (ha!). Claw is a humourous and talented lady, definitely someone that has great talents!
Read up on the interview to learn more about her after the jump…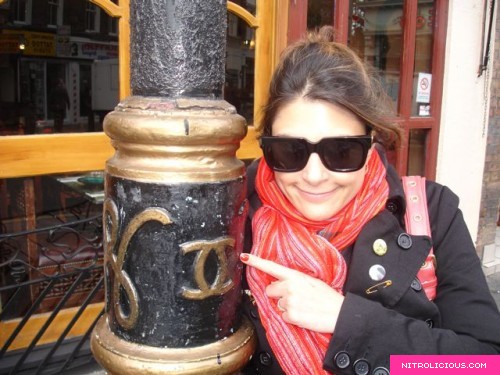 Tell us about yourself…
Better ask somebody! I'm the number 1, alpha female. Full of piss and vinegar today- feeling a bit salty and mean! Think I am about to get my period – growwwwwwwwl!
                       
Who would you most like to style in your clothes?
Some rich bitch who's paying big bucks! Really though, I already have the coolest chicks on the planet wearing my stuff- like M.I.A., Santo Gold and Roxy Cottontail – I guess if they weren't my homies, I would want to style them!
 
What's the worst fashion faux pas?
Letting clothes wear you, instead of you wearing them!
                       
When did you decide you could take something you were passionately interested in and make it your profession?
I have always been in the fashion business, whether the customer knew it or not. I am responsible for trends you see just emerging now – things I've been repping for more than 10 years! I think I just had to sign my products to finally get the credit due.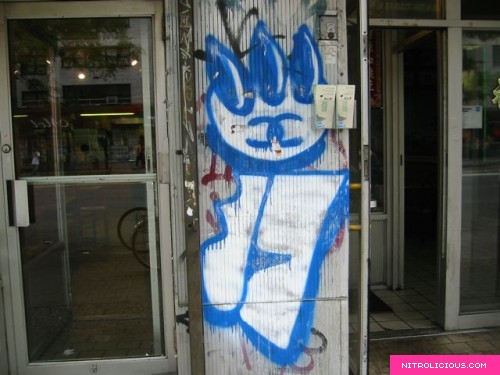 What did you think of the graffiti documentary,"INFAMY" as a whole and how did you react to seeing yourself on screen?
INFAMY was filmed in 2003. Seems like a million years ago! I love that movie, it is honest and real deal. Of course I thought I looked fat and blotchy on screen, and my sneakers were busted but you have to wear crappy stuff when you paint, everything gets filthy and ruined, in like half an hour…
 
What type of concepts do you start with when designing your line?
Ideas flow thru my mind every second so concepts are all over the place – we have to edit, edit and edit! Since the collection is growing we need to have finite concepts. I am a bit overly ambitious and I want to do everything. My challenge is always trying to streamline down to 1 or 2 themes.
 
What designers have you admired over the years?
So many… I am the ultimate fan. I live for Zandra Rhodes, Emilio Pucci and YSL, to name a few. I love Karl Lagerfeld for changing the face of Chanel, while staying true to her aesthetic. I wear vintage Norma Kamali, Valentino and Stephen Burrows with my H +M jeans and high tops. I love Manish Arora. I love John Galliano. And Jeremy Scott is my brother from another mother!! I could literally list over a hundred people, so many talented people doing their thing….. inspirational!
Do you think your style has changed since you began producing your own clothing and accessories?
Yes! I don't want to wear printed t-shirts anymore! I have been making them for over 7 years. I know some other brands claim to be the first on the block women's streetwear brand, which is ridiculous in itself, because women have been doing this stuff since the early 90's (much respect to Camella Elke, the Label Whore girls and Mary Ann from Union — those ladies put streetwear on the map, for dudes too!) but I am the first of this generation to start a women's streetwear brand. At this point, I want to dress all pretty, hippy because I live these graphics all day, everyday.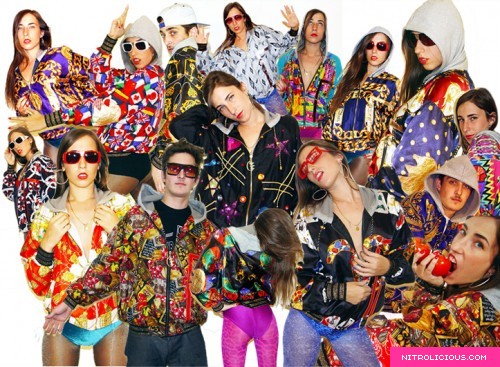 Describe the process of turning vintage scarves into jackets?
The Keebler elves and I work day and night to make those babies! It is so much fun, no two are alike. First I have to vintage shop for the materials, then make patterns, and then start the whole sewing process. We add sparkly ribbing to the waistbands and sleeves, then a sweatshirt hood, patent leather CLAW elbow patches and arrows to the front and back, then add the giant gold cast CLAW zipper charm.
 
You're taking tokens of high fashion and employing them within a street atmosphere. Is something gained or lost in the process?
Yeah I am scumming up their beautiful brand!! I have always appropriated luxury and made it much more punk rock/hip hop in my own style, so it is natural that those tokens will translate into my art and designs. I want to have the similar iconic branding as some of the European fashion empires have, that kind of power of recognition.

 
Your website still prominently displays your graffiti and most of the press you've received uses photography of your work in that vein.  Do you foresee a time when you will find yourself disassociating with that time in your life or will you continue to let graffiti figure strongly into your public identity?
It is funny that you say that – we are doing a redesign with no graffiti!  So much of my stuff exists on the web, I'm like GOOGLE me, bitch! I want the web to be just e-commerce. I have my visual autobiography out, "BOMBSHELL" by Powerhouse books, and there is so much information out there. I think it would be more rewarding for the new fan to discover this stuff on their own. I often wrestle with my vantage point but I have to rep for graff whether I like it or not – it's a big part of why I am the CLAW and why the CLAW is popular.  It's not my only claim to fame; I have many talents and like to explore them all. I definitely don't want to be defined by graffiti solely,  nor fashion either. Basically, I don't fit in a box.
 
The work you did with NIKE was well received.  What was the motivation on their part to come to you and how did you approach the project design-wise? Did you pick the Blazer yourself or did they specifically ask you to do that model?
I did both a Vandal and a Blazer. Since I am a sneaker freak and a Nike collector, I knew I had to do a Vandal (my all time favorite) and I love the Blazer, so when it was suggested by Nike's main man, I was diggity down.

 
What is on the drawing board for Claw Money in 2008?
Big things baby! I have a fab collab coming out this spring – a bag line with Boosted Artist Series – shit is hot fire! I am getting hitched, going on a Grecian honeymoon, best friend is having a baby and my new line is banging…. Looking good and feeling good… And new sunglasses – wowzers – stay tuned for those! Working on some secret tv shows, a new book and world domination!
For more info: www.clawmoney.com
Categories: features/interviews streetwear vintage
Tags: