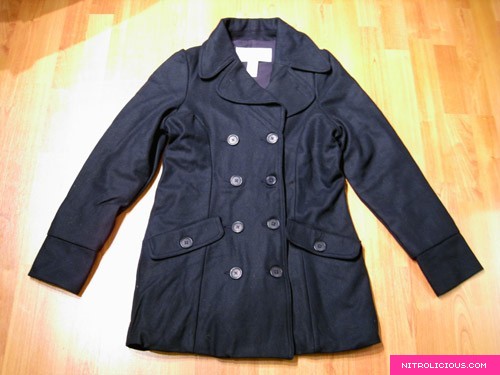 Lucy Wool Coat (Navy) – size medium
If you did not win the first Stussy Girls giveaway here's your second chance to enter to win a Stussy Girls Lucy Wool Coat in Navy (size medium)! This wool coat is great for the brick Winter right now, don't lose out on this one. One (1) lucky winner will be randomly chosen from the entries to receive this coat. Good Luck! Sponsored by Stussy Girls.
Giveaway Starts: Tuesday, January 29, 2008 – Now
Giveaway Ends: Tuesday, February 5, 2008 – 11:59pm EST
Giveaway had ended, thanks for participating. The winner will be announced on Wednesday, February 6, 2008.
Please follow the guidelines below to be considered, one comment per person…
Giveaway Guidelines (all must be completed to be considered):
Sign-up for my weekly newsletter (you will need to subscribe again even if you've already done so).
Age / Location (City, ST).
Answer Question #1: Do you shop with your boyfriend or do you prefer to shop alone or with girlfriends?
Answer Question #2: Do you find Stussy in your boyfriend's sneaker shop? If so, give props to the shop.
Please be sure to complete all 4 guidelines or your entry will not count! Good Luck…
Categories: contest/giveaway streetwear
Tags: