Finally, Old Navy is up for a makeover in their image. They are looking to appeal to the 20-something crowd and shedding their family image. They have even switched up their logo and eventually store renovations will take place, I'm not too sure if it's a good or bad idea to change up their logo since it's already so established.
Old Navy's new strategy is somewhat like H&M and Forever 21, focusing on fast fashion that changes monthly. For their first collection, due in February, encompasses African-inspired dresses, safari suiting, tank tops with touches of lace, khakis, city shorts and plenty of red and prints an "urban safari look". In March expect brights and whites inspired by Palm Beach, in April it will be a surf appeal, in May there's a tropical, Hawaiian point of view, and for June, it's a glitzier grouping, reflecting Old Navy's sponsorship of the MTV Music Awards. Looks like the prices have gone up a bit too. via WWD
I think change is great for Old Navy as it refreshes the brand, I anticipate to see the new collections in stores.
More pics after the jump…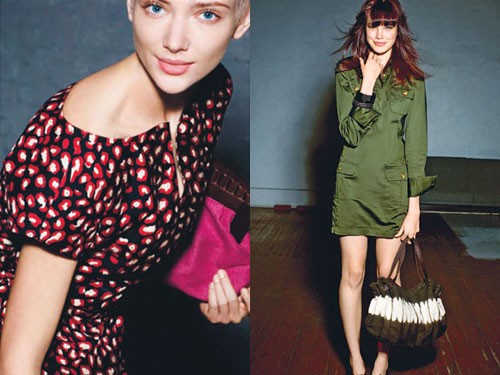 Belted print dress: $29.50 / Safari pullover dress: $34.50
Categories: fashion
Tags: