Photography: Juergen Teller / via FWD
This have got to be one of the most hilarious and ironic ad campaigns I've seen for fashion. Obviously, Marc Jacobs didn't care that Posh topped Mr. Blackwell's worst-dressed list and still used her as a muse. The first ad to be released is this giant Marc Jacobs shopping bag swallowing Posh, with only her legs showing. If you think you can escape from Posh's much photographed face, think again (I'd doubt she'll agree to it also). The next set of ads to appear in February issues is Posh popping her head out of the shopping bag, stepping out of a gift box, or simply posing with her best signature pout. I'm really loving the idea of Posh being 'used' as a product in these shots, brillant! I heart Marc Jacobs!!
Remember these Chanel S/S '07 1/2 tinted sunglasses that I wanted and couldn't get? Well, I think here's my chance since Marc Jacobs is releasing a similar pair (see ad below)! I need to call the Marc Jacobs store right after this! Two more pics after the jump…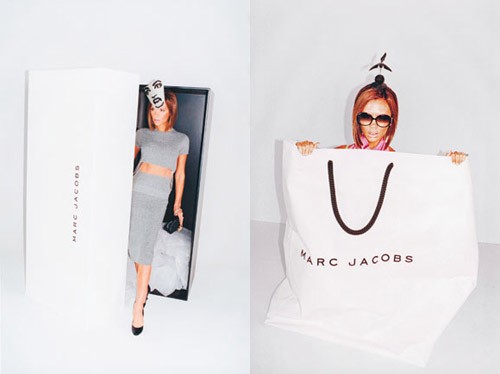 Photography: Juergen Teller / via WWD
I'm loving those 1/2 tinted sunglasses, reminds me of the Chanel sunglasses I wanted but couldn't find! Time to call the Marc Jacobs store!
Categories: celebrities fashion
Tags: