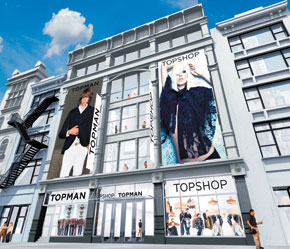 A rendering of Topshop's first U.S. store, to open in Manhattan in September.
Topshop has announced its first news to step foot into the US back in 2006 and there has been continuous rumors on where the first location will land. According to WWD, Topshop's first Manhattan store will be at 478 Broadway in SoHo, which is currently Yellow Rat Bastard. Topshop's owner, Sir Philip Green has an option to take a 9,500-square-foot space on the building's top floor to use as his U.S. office and said further store openings in America are likely to come sooner rather than later. Expect the first Topshop/Topman unit in September, he is planning two more Manhattan stores, as well as flagships on the West Coast, and other units in cities including Las Vegas, Miami and Boston.
The new Topshop stores in the U.S. will be a minimum of 20,000 square feet and they all will be flagships. "I don't want hundreds of little stores in the U.S. They all have to make economic sense," he said.

The Broadway flagship will cover 40,000 square feet over three floors — basement, ground floor and first floor — and Green said he's hoping to preserve the "spirit" of the brand's iconic Oxford Circus flagship. Green said he and his team are mulling the design for the Broadway store, but there likely will be a spiral staircase in addition to escalators, and customers in the basement will be able to view the two upper floors.

He also has no plans to advertise in the U.S. as of yet, although there likely will be two or three events next year to mark the flagship's opening.
This is great news, though September seems a long time from now but good things are worth the wait!
Categories: fashion shopping topshop
Tags: