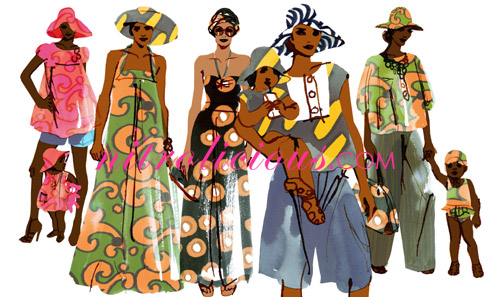 Illustrator: Moa Lindqvist Bartling
H&M's designers have created a beautiful collection with Marimekko's popular patterns from the 1950s, 1960s and 1970s for the summer 2008. The collection of some 50 products will be sold in H&M's stores on all 28 markets from April 2008.
The collection, which has a graphic overall look, will comprise airy summer favourites such as wide 70s dresses, tunics, skirts and shorts for women. For men there will be classic summer shirts and shorts. There will be some items for children as well and all comes with accessories to match.
The collection looks quite cute from the illustration above, mother and daughter looks are absolutely adorable! I love bold colors with funky designs, especially for the warm weather you can go all out – the sun is bright and so can you! I'll sit tight to make other judgements when the "real" pictures are released…
Are you looking forward to this?
More info after the jump…
"Our design team has long admired Marimekko's vivid prints and colours. When our designers came up with the idea of creating a collection with Marimekko prints, it felt natural and just the right time. The summer collection 2008 will be
joyfully fresh like a vitamin injection," states H&M's head of design Margareta van den Bosch.
"H&M is one of the trendiest and most successful fashion houses in the world. I see a great value in our co-operation. I believe that it will enhance Marimekko's international recognition among young and fashion-conscious consumers, "says Kirsti Paakkanen, President of Marimekko.
About Marimekko
Marimekko is a leading Finnish textile and clothing design company that was established in 1951. The company designs, manufactures and markets high-quality clothing, interior design textiles, bags and other accessories under theMarimekko brand, both in Finland and abroad.
Categories: h&m
Tags: