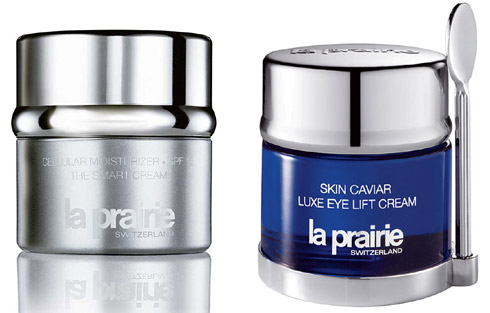 I'm a very particular person when it comes to beauty products, especially for the face and eyes. Using the wrong kind of lotion can mess up your skin. You can't go cheap on your skin, especially for your face – I mean everyone looks at your face first right? I've been testing this La Prairie Cellular Moisturizer SPF 15: The Smart Cream for about a month now and I absolutely love it! The smoothness and subtle smell is a plus but most important my skin gets really dried during the Winter months, this cream keeps my skin moisturized for the whole day! This cream is an all around cream perfect for anyone in their 20s. It contains SPF 15 (very important for day cream), hydrates and reduces the appearance of fine lines (not that we should worry too much about this right now, but early prevention is a plus). 
In addition to face cream, you should always use eye cream as well. I know a lot of people that just use their face cream for their eyes as well, but the area around the eyes is very sensitive. I'm a bit lazy about it too but I've gotten better with applying it this year, recently I've been sampling (got to test it out before splurging on it) the La Prairie 'Skin Caviar' Luxe Eye Lift Cream and it seems like its doing well. It attacks my puffiness, dark under-eye circles (especially when I have lack of sleep) and dryness! Anyone tried La Prairie products before? If so, anything you can recommend? Courtesy of La Prairie / PWC.
Peep the links below to learn more about the products!
> La Prairie Cellular Moisturizer SPF 15: The Smart Cream
Categories: beauty
Tags: