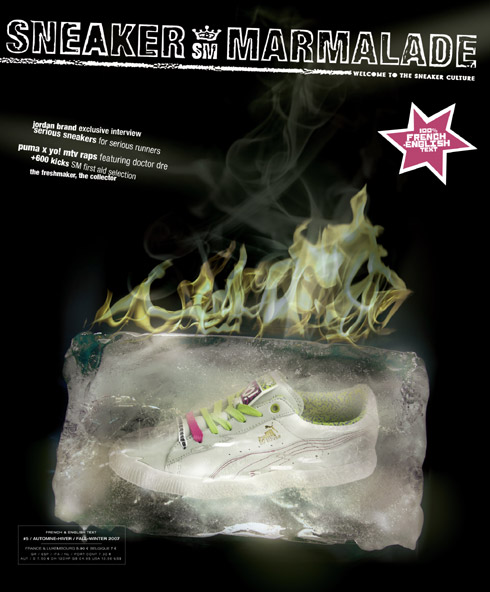 For this fifth issue, sneaker-marmalade gained weight it features 146 pages, including a 16-pages supplement presenting a selection of the best 600 kicks of this winter 2007 as well as 2008 previews. Click here for find your copy…
This sneaker-marmalade issue is full of good things to read and look:
An in-dept article on the Reebok Freestyle, to better understand its origins, its variants and and series to come
An exclusive interview with Gentry Humphrey (Jordan Brand), another one with Doctor Dré
An introduction to young brands like Hot Air, Vane, etc.
A ton of fresh news refreshing for the mind: JB Classics Prime Label, KicksTyo, CRTL, Saucony, Run Athletics…
A running performance surprising test (with a test protocol worthy of Runner's World) including Nike, NB, Adidas, Asics, Reebok et Saucony, reconsidering the well established positions
A selection of the best 600 best kicks amongst more than 5000 sneakers of the general releases of the major brands in the sneaker business
About sneaker-marmalade
Since 2005, sneaker-marmalade contributes, with rigor and reliability, to put forward sneaker's legacy and creativity.
sneaker-marmalade is also:
A semi-annual publication, with covers dedicated to artworks, a 300g plastified granic like cover: sneaker-marmalade is in a midway between a book and a magazine.
An open-minded spirit: From its origins, sneaker-marmalade is dedicated from sneaker lovers as well as curious neophyte wishing to discover the sneaker universe.
A magazine that puts qualitative fashion photoshootings on stage: to emphasise the shoes in its environment, besides the traditional pack-shots.
Offering to the reader in dept studies on a specific model or range, therefore the Research Dept heading.
A wide format 230*280 to emphasise pictures and visuals.
Categories: kicks
Tags: