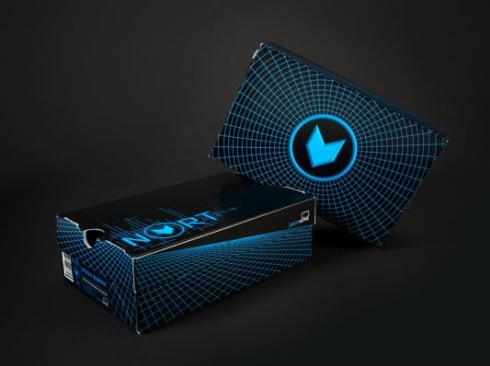 Jason Markk and NORT have teamed up to produce the "JASON MARKK x NORT" Tron-inspired Premium Sneaker Cleaning Kit. The kits will be available at the NORT NYC and the soon to launch Reconstore.com site as well as the JASON MARKK online shop today, November 8th.
The trademark JM sneaker box packaging was given an extensive makeover. The exterior design was completely redone with a Tron-inspired design over a matte black base. The 8oz. bottle of Premium Sneaker Solution has an all-new teal color and fresh scent.  In addition, the handcrafted wood brush has both JM and NORT logo branding as well as matching NORT-inspired design laser-etched right onto the brush handle!
More pics and info after the jump…
The "JASON MARKK x NORT" Premium Sneaker Cleaning Kit was art directed by legendary New York graffiti artist Stash and his Recon designer Jared Liner. Stash, owner of NORT and also an avid Tron enthusiast, likes the movie so much that he named his store after it (NORT spelled backwards)!
Since the launch of the JM brand this past March, Jason Markk has been receiving plenty of support from the sneaker community, and with the addition of new stockists each week, things continue to look promising for the road ahead. The NORT kit is the second collaboration release for the Jason Markk brand with plenty of other premium projects and products in the works.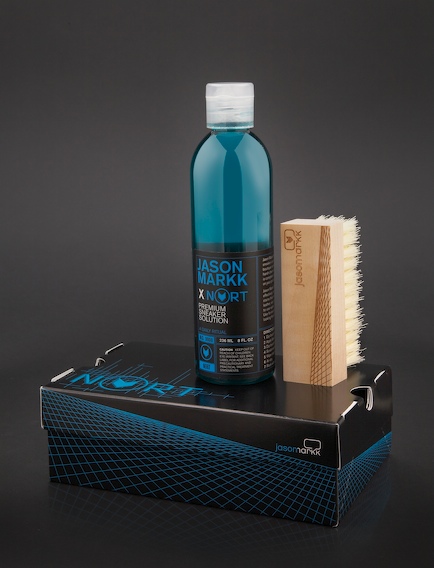 Keep your kickz fresh, it works like a charm!
Categories: jewelry/accessories kicks
Tags: