My version of the Fuel For Life Perfume – courtesy of Diesel (thanks Mathieu)!
Diesel opens the first perfume customization shop – limited to 20,000 units. Where perfume is concerned, the rules would like people to be limited to one possibility: one fragrance, one bottle, one universe. With the creation of the Fuel For Life Factory website, Diesel perfumes explore the world of customization by offering a genuine online personalization experience. Everyone, man or woman, can now express their style by dressing the bottle which encases the sexy and energetic elixir. A way for Diesel to invite the internet user to express their personality and membership of the Diesel community, a generation of hedonists for whom anything goes.
The sounds of the tools animate an assembly workshop hidden right in the centre of the city of Paris. A pouch is in the process of being produced. Cutting the cloths, laser engraving the logos and finally attaching the thin strap. As always at Diesel, the object is a unique production where detail is everything. Nothing is left to chance in the creation process: with patience and great attention to detail, the craftsmen assemble the pieces according to the requirements of each user. And so that the creation becomes a legend, only 20,000 products will be customised in this short-lived shop.
The website is very user-friendly within a few steps you can create your own "outfit" for your Diesel Fuel For Life Perfume! How cute!
Fuel for Life Masculine or feminine, a unique perfume to be customized at:
www.diesel-parfums.com/factory
150,000 possible combinations
Choice of 10 colors for the leather pouches, 10 shades for the leather strap and 10 laser engraved designs.
Limited Edition of 20,000 products
List of distributing countries: France / Germany / Italy / Spain / Austria / Finland / Ireland / Portugal / Netherlands / United Kingdom / United States / Canada
Price: $129 in the United States and Canada
Visit www.diesel-parfums.com/factory to customize your own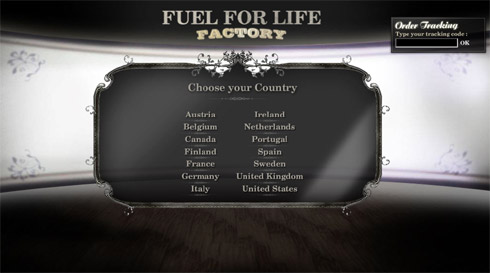 The experience begins looking at screen: Fuel For Life for Him or Fuel For Life for Her?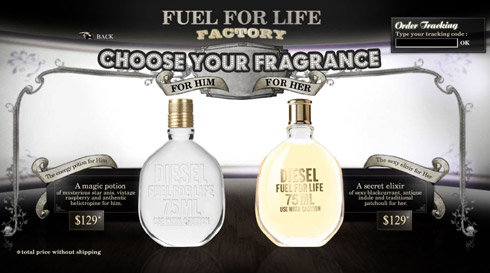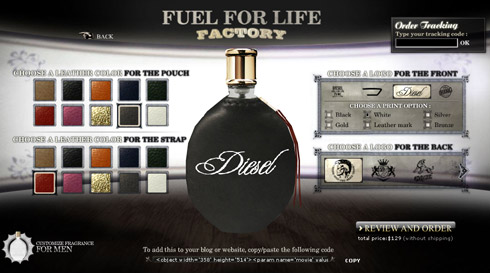 Then ten colors for leathers for the pouch and the strap, a logo to be chosen from twelve options. What to choose? There are more than 150,000 possible combinations offering the user the chance to personalize the pouch for his/her Fuel For Life perfume. In just a few clicks, Diesel gives him/her the opportunity to design and dress a perfume in his/her image. Never before has a customization experience been so comprehensive for a perfume.  All that remains is to wait a few weeks to receive your exclusive version of the perfume, and finally take over the story of Fuel For Life.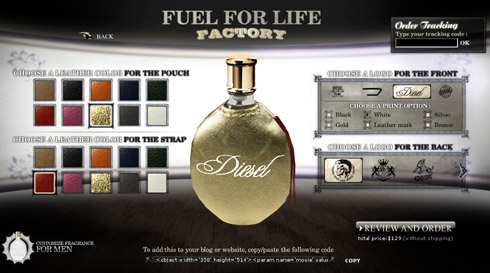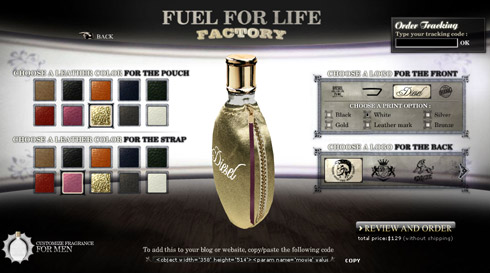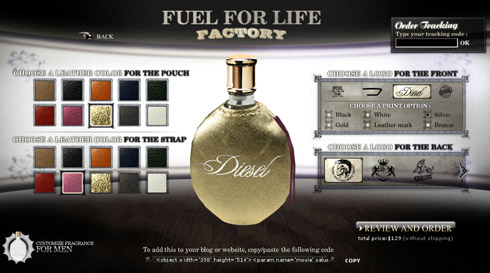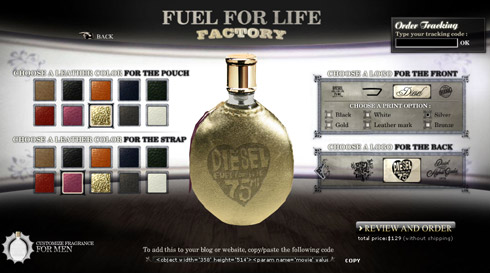 Customize your own at: www.diesel-parfums.com/factory.
Categories: beauty
Tags: