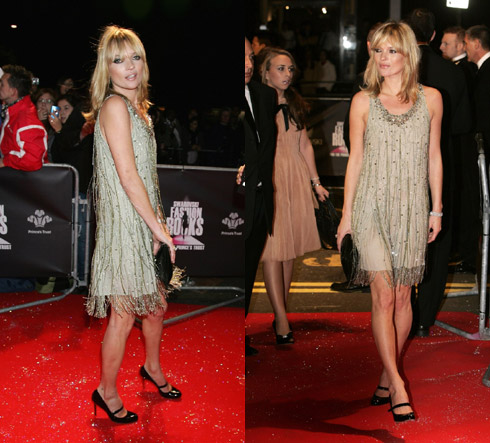 Photography: Celebutopia | Text: Swarovski Fashion Rocks
On the evening of the 18th October, London welcomes the return of Swarovski Fashion Rocks, the ultimate combination of fashion and music. Adding further sparkle to the evening will be the Topshop dress worn by Kate Moss at Swarovski Fashion Rocks for The Prince's Trust, a homage to a 1920's vintage original from Kate's personal collection. The dress, sparkling with 60,000 Swarovski crystal beads of silver, dove grey and antique green, is in a classic Flapper cocktail dress style and covered with looping tassels that shimmer as the dress moves.
Designed by Kate and the Topshop design team, it was hand-beaded by Hand and Lock – couture embroiderers who have used a specialised and rare kind of beading technique called tamber to create this stunning fluidity. Combining the production costs at Topshop, and the sheer number of Swarovski crystals, this dress would retail at £40,000.
To bid for the dress, click here. The auction will be open from 9am on Friday, October 19th until 12am on Sunday,  October 28th. More info after the jump…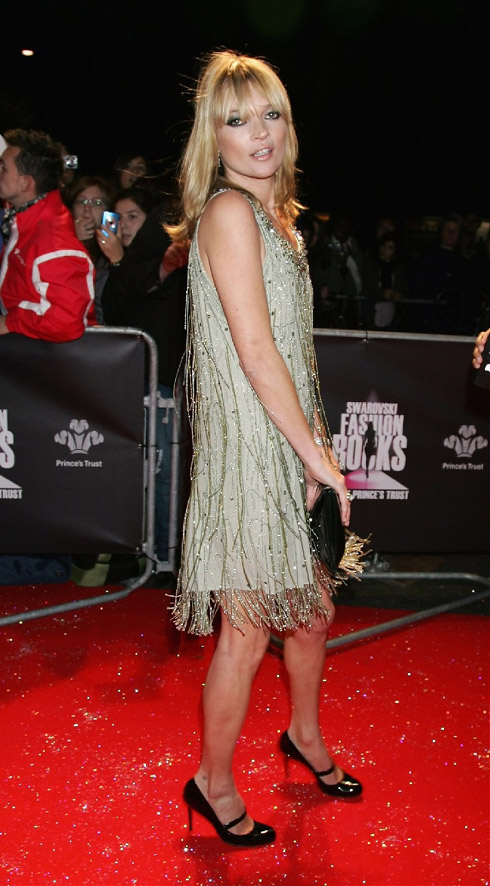 Kate Moss says of this dress, "When I was invited by Swarovski to create a dress with Topshop to wear to Swarovski Fashion Rocks, this 1920's flapper style immediately came to mind, it has been a major inspiration for my autumn/winter designs for Topshop and just felt perfect; it was like a dream to use such an amazing amount of Swarovski crystal! I'm honoured to have the opportunity to raise funds for the Prince's Trust, as it's a great cause. Plus, I get to wear my own amazing couture dress, even if it's just for the night!" Sir Philip Green added "We are delighted to have collaborated with Swarovski to create this beautiful show stopping dress especially for Swarovski Fashion Rocks. We hope that the sale of this unique piece will raise a considerable sum for The Princes Trust" 'Working with Kate on this dress has been a great opportunity," says Nadja Swarovski, Vice- President of International Communications from the world famous crystal house, "the perfect creative challenge to produce something infinitely beautiful, which has the added bonus of raising funds for The Prince's Trust."
Categories: celebrities fashion topshop
Tags: