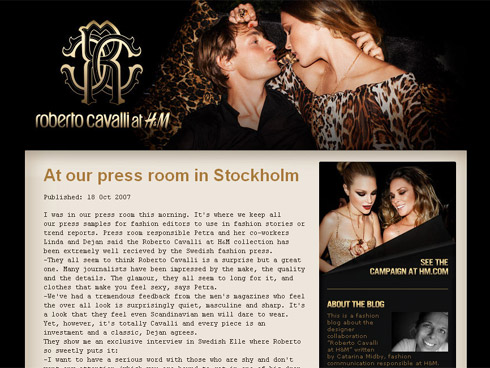 H&M is keeping us in suspense with all the little sneak peeks from the Roberto Cavalli at H&M collection! I'm so eager to see the whole line! I was informed by the PR that the release party will be at ROME, but they have other plans for us New Yorkers!
As I was paying for my H&M purchases yesterday I overheard the cashier talking to a customer about the Cavalli collection so I decided to ask him when I was up next. The cashier revealed that there will be a "red carpet" event at the 5th Ave & 51st Street – Flagship Store (really, there's going to be red carpet rolled out he emphasized) on the day of the release, November 8th. There will be two collections, the "very limited" red carpet dresses (he said there will be 60 pieces in the world and 30 pieces will be available at the Flagship Store but don't quote me on this, its just him telling me and me relaying it back to you guys), and the regular Cavalli collection that is not as limited. He said he saw the whole collection already and was blown away, the quality of the products are good too. He also said that not everything will be animal prints of course, we'll just have to wait and see…
In the meantime keep up with Cavalli at H&M through their blog – lots of sneak peeks and a great deal of info there!
Categories: h&m
Tags: