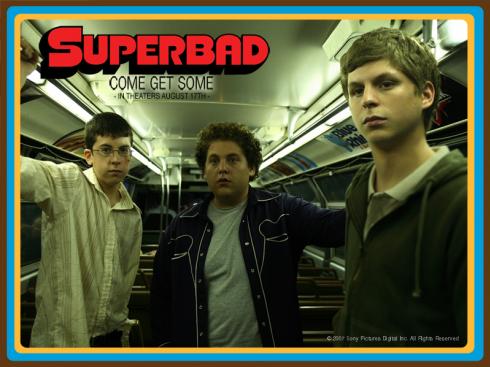 McLovin, Seth & Evan
This past Friday, I hit up the theaters with Ada to watch SUPERBAD, not knowing what this movie is about but knowing that it was from the guys of 40-Year Old Virgin and Knocked Up I knew it would be super funny. This movie was definitely worth my time and $11, it is def SUPERBAD! Gosh, I cracked up the whole time and when I think back I still crack up, peeps at work think I'm a total freak haha but watevers, if you haven't seen this movie you're totallly missing out! Watch it! Watch it! I swear I'm not getting paid to say this!
I also have a SUPERBAD thing for EVAN (Michael Cera), before the movie I had no idea who he was, after the movie I scrambled to see what he's all about! Evan is dumb funny, gosh he's so adorable!! I can't wait to get the DVD for this movie, I'll be watching this every week haha, j/k.
Don't believe me? Watch some SUPERBAD clips here!
Categories: celebrities entertainment/events
Tags: