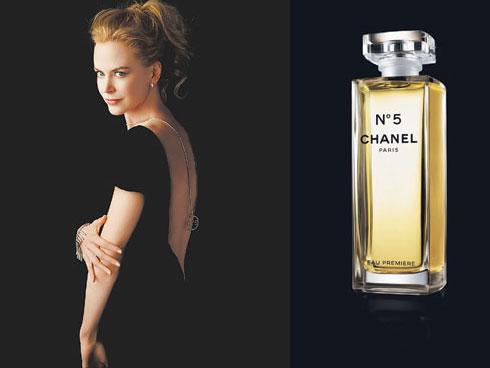 Nicole Kidman face of No.5 Eau Première
Starting in September, Chanel will be launcing five new products under the the new Chanel Beauté Initiale line aiming at the 20s and 30s, the age when the first breakdowns in cellular function and signs of aging occur. This will be Chanel's first skin care line, the key ingredient used in the Beauté Initiale line is Blue Ginger PFA, other key ingredients include vitamins C and E and trace elements of magnesium, zinc and copper, intended to protect cell membranes, elastin and collagen against free radicals and reenergize tired skin by boosting cell function. In addition to the blue ginger present in all of the products, additional antioxidants and skin protectors have been added where possible.
Energizing Multi-Protection Concentrate, $85 for 1 oz., adds taurine, said to boost cellular energy; Energizing Multi-Protection Cream SPF 15 and Energizing Multi-Protection Fluid SPF 15, designed for dry and oily complexions, respectively, are each $75 for 1 oz. and are intended to be everyday moisturizers; Energizing Multi-Protection Eye Cream, $60 for 0.5 oz., includes yeast extract and sodium lactate, said to deal with puffiness and dark circles, and Energizing Multi-Protection Fluid Healthy Glow SPF 15 is a moisturizer with a built-in self-tanner and SPF, $75 for 1.7 oz.
Also, the brand's iconic fragrance, Chanel No.5, is also being given a new twist this fall. In October, Chanel will launch No.5 Eau Première, which the house is calling a fragrance "essence." A new national ad shot by Patrick Demarchelier, featuring Nicole Kidman, will break in November fashion, beauty and lifestyle magazines. via WWD
Categories: beauty celebrities
Tags: