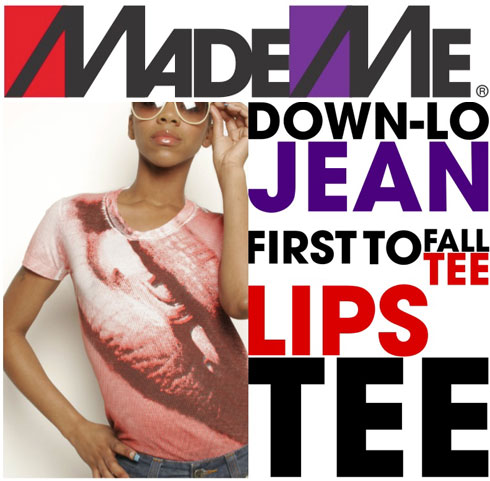 This year is popping for the ladies of streetwear, more and more emerging brands for us…keep 'em coming! After 4 years of producing, designing and developing some of the hottest names in streetwear, such as Kim Jones for Umbro as well as Supreme to only name a few, Erin Magee has created her own debut MadeMe collection, 'First to Fall'. The line fuses together the comfortable and confrontational nature of streetwear with the confidence and sex appeal of a woman. With rare innovation in denim design, high-waisted denim, an array of soft tees and striking leather bomber jackets, MadeMe is the ideal collection for the grown up girl who was raised in the age of streetwear.
The first MadeMe collection hits stores this fall and includes two contrasting denim looks, leggings, graphic t-shirts, hoodies and stylized leather bomber jackets. Burnt out on a closet full of skinny jeans, Magee satisfies her craving for a different silhouette with the "Up-hi Jean". Up-hi is made from light denim, has a wider leg and contours a woman's waist and hips for powerful sex appeal.
More info and pics after the jump…
The concept behind MadeMe came directly from Magee's feeling of emptiness at a time when nothing excited her in the marketplace. "I knew it was time to start my own brand when I became severely bored by what I was seeing in the streets." Hence the logo, a broken heart designed with two letter 'M's' side-by-side. The broken heart is not only a reaction to the lack of innovative women's street style, but also a reaction to the void of today's American pop-culture. "I came to New York when I was seventeen to follow the Lower East Side definition of creative, cool – Madonna, Keith Haring and Grace Jones drew me to New York, now I am here and it is time for me to make my mark." Magee's fashion inspirations to create this collection include Vivienne Westwood, who was the first to make the screen printed tee a phenomenon; Balenciaga and Halston, who both use masculinity in a very powerful, sexy way.
The debut collection, "First to Fall" was inspired by America's obsession with celebrity. The literal translation of our unhealthy fascination with celebrity is expressed through MadeMe's line of super soft t-shirts with screen-printed graphics. "We all grew up worshipping timeless icons, aspiring to copy their style and holding them up to a standard that they could do no wrong. However, when celebrities act like humans we attack their humanity through intense media scrutiny." The collection's premier tee is adorned with an airbrushed photo of Marilyn Monroe taken by Bert Stern during her last photo shoot, for Vogue, six weeks before her death. Other prints include the "Paris is Burning" tee, named after a documentary film chronicling the New York's gay club culture. Created from a collage of New York Post headlines over a six-month period illustrating America's infatuation with celebrity culture. Rounding out the collection is the "Virgin Tee" and the "Lips Tee" – both of which are purely honoring Magee's main inspiration – Madonna.
Categories: streetwear
Tags: