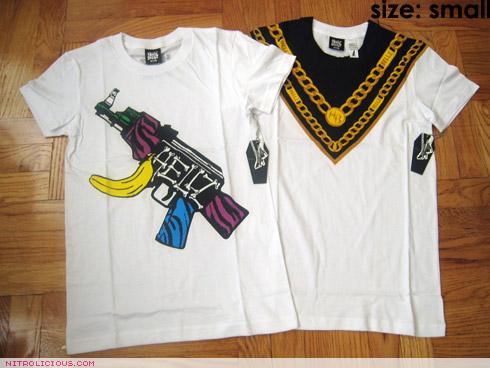 Set A: Two (2) t-shirts: size small
WINNER:  Edith Taveras #1 (replied) – Aug 7th
—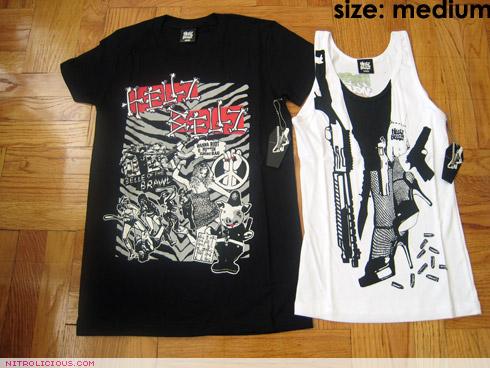 Set B: One (1) t-shirt & One (1) tank top: size medium
WINNER:  Angela Juarez #22 (disqualified – no response for a week) – Aug 7th
NEW WINNER: Joyce Lau *Congrats* (Please respond to my email no later than Aug 19th) – Aug 13th
—
Once again, being a nitro:licious reader has perks, this time I've teamed up with Lanie from Hellz Bellz to give away two (2) sets of t-shirts. Each set will consist of two (2) pieces in the same size, sets are in size small and medium. There will be two (2) winners chosen randomly by me for this giveaway, courtesy of Hellz Bellz.
Starts: Tuesday, July 24, 2007 (now)
Ends: Tuesday, July 31, 2007 (11:59pm EST)
Rules:
Leave a comment here, please enter only once! Entering more than once will get you automatically disqualified! Please note that comments will be published.
Full Name, Location (city/state), Age, Occupation.
Which set do you want? Set A or Set B? Please choose only ONE (1) set, choosing more than ONE (1) will get you automatically disqualified!
How did you hear about the giveaway?
Lastly, subscribe to my mailing list (make sure to confirm your email).
The winner will be announced here and will be contacted via email, please bookmark this link and check back for future announcements. GOOD LUCK and spread the word!
*CONGRATS TO THE WINNERS, YOU WILL RECEIVE AN EMAIL FROM ME SHORTLY!*
Categories: contest/giveaway streetwear
Tags: